Dennis Quaid, Michael Chiklis Negotiating For Roles In CBS Pilot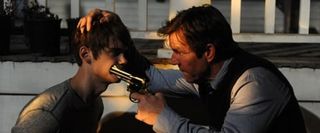 There's big news in the casting progress for the Nicholas Pileggi penned pilot over at CBS. Word is that Dennis Quaid is in talks for the lead role in the project, while former Shield actor Michael Chiklis is also negotiating for a potential spot. Negotiations are going slowly, but we could be seeing Quaid in his first regular series role if all goes well with the pilot.
The project, which is being co-written by Casino author Pileggi and Greg Walker, is based on the real life tale of a rodeo cowboy who becomes the Sheriff in Las Vegas during the 1960s – one heck of a time to be the face of the law in a city owned by mobsters. Deadline reports that Quaid is negotiating to play said cowboy, by the name of Ralph Lamb, for the pilot. Chiklis, who has a current deal on the books for development with CBS, is being considered for the part of a ruthless gangster who arrives in Vegas from Chicago. Obviously the two will be at odds with each other.
This project is definitely Nicholas Pileggi's area of expertise, so I have some high hopes for it. It sounds an awful lot like a take on Casino, but with the focus more on the side of the law and less on the gangsters running America's favorite gambling town behind the scenes. Getting Quaid on board in the lead role would definitely give the project a boost, and it sounds like good casting to me. I'm having a little more trouble picturing Chiklis as a gangster, but that might be because we're used to seeing him on the other side of the law. It could be a very interesting change of pace for him.
Your Daily Blend of Entertainment News