Disney Channel Is Dropping The Most Epic Marathon Ever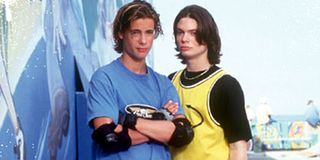 Zetus lapetus! The Disney Channel has done some great things over the years, including but not limited to introducing Disney Channel Original Movies and creating a Boy Meets World spinoff. Now the channel is really trying to go hard on the nostalgia by airing a giant marathon of Disney Channel Original Movies, referred to as DCOM forthwith. The marathon will air for four entire days and will include 51 total movies. So if you want to travel into space or see some dude turn into a mermaid, you should check out the full list, below.
At first, I was a little weirded out about why Disney might choose to air a bunch of sequels on the first day. I mean really? While we are all fond of Halloweentown II it's a little weird to kick off with that one instead of the original. And if you are going by popularity—although Lemonade Mouth was where it was at a few short years ago—then you would think High School Musical would rank a bit higher on this list, as would Brink. It generally looks like they've sprinkled some of the most popular titles in with some movies that did pretty well, although a lot of DCOM titles did not make this list. (Here's looking at you Stepsister From Planet Weird.)
Still, there are a lot of gems to choose from. A lot of these movies featured actors and actresses who went on to do even greater things. The Even Stevens movie starred Shia Labeouf, who later watched it during an epic marathon of his own. Cadet Kelly featured an early performance from Hilary Duff. Raven-Symone is sprinkled all over this marathon, appearing in the Zenon movies and The Cheetah Girls. High School Musical helped Zac Efron, Vanessa Hudgens, Ashley Tisdale. Plus, Smart House randomly features Katey Sagal and Halloweentown is all about Debbie Reynolds. You can play spot the famous person in a lot of these.
Not quite jazzed, yet? That's okay, just remember the DCOM movies even spawned some great musical moments. I wouldn't be the person I am if I didn't include this gem:
The TV season is wrapping up on the major networks and a lot of the cable channels. By the end of May, TV won't have a lot of new episodes airing, although there is some good stuff coming up this summer. With that in mind, you could do worse than a DCOM marathon. Because being normal is vastly overrated...
Reality TV fan with a pinch of Disney fairy dust thrown in. Theme park junkie. If you've created a rom-com I've probably watched it.
Your Daily Blend of Entertainment News
Thank you for signing up to CinemaBlend. You will receive a verification email shortly.
There was a problem. Please refresh the page and try again.