Downton Abbey Renewed for Fifth Season Because We'll Never Quench Our Dowager Thirst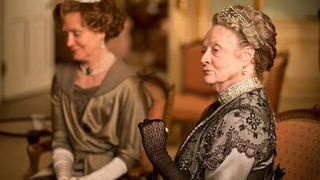 Dowager Countess obsessives unite! It seems our fair lady of Yorkshire and her entire Crawley family harem are slated to return to television screens for a fifth season of Downton Abbey. Both of the series' home networks — the British ITV and the stateside PBS — confirmed the news Sunday. So hold onto your hats and find a nice chaise lounge to faint upon because the sweeping Edwardian drama is here to stay!
Production is already slated to begin on 2014, but there's no sign of a release date yet set for season five. None too surprising, considering its existence was only just announced. All things considered, however, it seems a safe bet to assume the past four seasons practice of holding the US release until after the new year will continue. (Which is terrible for those predisposed to bouts of impatience.) For UK fans, this news comes ahead of the season-ending Christmas Special — a yearly tradition for most shows across the pond where series create and film an episode especially for the holidays, which is just about the quaintest thing ever! — a relief for those worrying about any of the saucy drama left unchecked after the last mistletoe leaf has fallen. (And judging by the trailer, there's a lot of drama to go around.) Do not be afraid, Abbeyians, those luxurious dramas will be not be left to rot in the unknown. Decorum and common sense always prevail! Or, at least, it all always comes out in the washing up.
Masterpiece executive producer Rebecca Eaton summed up the satisfaction of the news for stateside fans matter-of-factly in the press release, "As American audiences ready themselves for the January 5th premiere of Season 4, our devoted Downton fans will rest easy knowing that a fifth season is on the way."
And this year, American fans will get a double Anglo treat, as the series will be paired up with another cult hit from the GB: Sherlock. Surely the power emitted by fervent Downton and Sherlock fans could become a new power source. I mean, just look at the ratings: Downton's third US season attracted more than 24 million viewers (making it the highest-rated drama in the history of PBS), and its fourth averaged 11.8 million viewers in the UK. Between period piece obsessive and the Benedict Cumberbatch fan base, there's a lot of pent up excitement to go around.
"Audiences have enjoyed their regular Sunday evening visits back to Downton once again this autumn and we are thrilled to produce a new series of the show next year," explained Downton Abbey executive producer, Gareth Neame, in a statement. "We promise all the usual highs and lows, romance, drama and comedy played out by some of the most iconic characters on television. All the actors and makers of the show continue to be humbled by the extraordinary audience response and want to take the show from strength to strength next year."
Check out a trailer for the upcoming fourth season, below.
Downton Abbey's fourth season premieres on PBS (under the Masterpiece Classics banner) January 5, 2014. Now somebody go tell Carson!
Your Daily Blend of Entertainment News
Thank you for signing up to CinemaBlend. You will receive a verification email shortly.
There was a problem. Please refresh the page and try again.