Eastbound & Down Season 3 Preview: Kenny Powers And The Myrtle Beach Mermen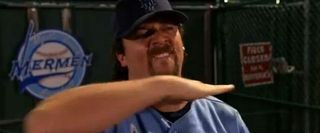 Eastbound & Down Season 3 kicks off in just over two weeks and the return of Kenny Powers to the American baseball scene couldn't come soon enough. In one of the most highly anticipated moves of the off-season, La Flama Blanca, the ace pitcher who regained his form as a Charro in the Mexican Minors, is ready to suit up as the newest addition to the Myrtle Beach Mermen. Number 55 is back and ready to throw some heat and don't worry, by the looks of this new trailer, he's up to his usual off-field 'pastimes' as well.
This new look is really the first full trailer for the upcoming season. While we have been strung along with a few posters (once literally strung, as it focused on a woman's bikini'd back) and teasers, this preview finally delivers the goods. Set to Hanni El Khatib's "You Rascal You," the Season 3 trailer is all adrenaline and designed to get you not only primed for the new season but absolutely floored. It does a great job in only a minute of showing all our cast favorites, introducing new characters and conflicts and, even showcasing a few of the high-profile cameos.
I was already pretty stoked to hear the news that Jason Sudeikis would be joining the show for Season 3 and since his Shane and Kenny look like two peas in a pod (strolling down main street, side by side, one in his giant pickup, the on his motorbike) it's all the more exciting. A perfect pitcher-catcher relationship that could drive a wedge between Kenny and his number one fan/old best friend, Stevie. We also get our first extended look at MAD TV's Ike Barinholtz as the Russian pitcher Ivan and as expected, he and the full blooded American hurler don't exactly see eye to eye. Also, look for brief glimpses at John Hawkes, Matthew McConaughey and the return of Will Ferrell as Ashley Schaeffer. It's going be be a big year.
Eastbound & Down Season 3 premieres Sunday, February 19 on HBO. The show stars Danny McBride, Steve Little and Katy Mixon. It was created by Jody Hill, Ben Best and McBride.
Your Daily Blend of Entertainment News
Thank you for signing up to CinemaBlend. You will receive a verification email shortly.
There was a problem. Please refresh the page and try again.