Even Sarah McLachlan Can't Make It Through The Sarah McLachlan Dog Commercial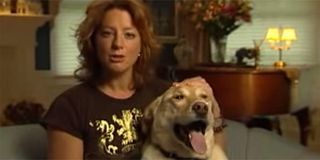 It's not often that an ad is memorable enough that people will remember it years and years later, but it does happen, and we bet if you think back you can remember the ASPCA ads performed by singer and songwriter Sarah McLachlan that first hit the airwaves about 7 years ago. The ad campaign features McLachlan's somber hits while sad faces of puppies and cats are stuck in cages. However, looking back, the singer doesn't have a ton of fond things to say about the super sad ad campaign.
Everything about those commercials is devastating. You never want to see animals in cages, and all of the images the ASPCA used featured tragic-looking animals staring up at the camera with wide eyes. Then, before Sarah McLachlan actually popped up to implore people to donate to help abused and mistreated animals everywhere, her most tragic music was used to sell the concept that the animals needed our help. Those ads aired for months and months, and apparently they absolutely dominated their target marketing.
If you can't remember this marketing campaign, there were several ads that went out, but the most famous of them was probably this memorable bit of marketing:
"In The Arms of An Angel" was a huge hit in the late nineties, and it's easy to see why the song and some of Sarah McLachlan's others were huge boons within the charity ad industry. McLachlan tells Makers that she credits the ad campaign as a catalyst for bringing her an entirely new audience, including old ladies who would stop her at Target and other random places to talk about the dog-oriented ads. And while they may have been brutal to shoot, they obviously proved valuable.
It more than worked. Nearly seven years later, those ads are still memorably, ranking up there with the ALS "Ice Bucket Challenge" and PETA's "rather go naked" billboard and ad campaign. If there's one thing for certain, the ASPCA ads certainly changed our outlook on "In The Arms of An Angel," and now there's no going back.
Amazing Race & Top Chef superfan with a pinch of Disney fairy dust thrown in. If you've created a rom-com I've probably watched it.
Your Daily Blend of Entertainment News
Thank you for signing up to CinemaBlend. You will receive a verification email shortly.
There was a problem. Please refresh the page and try again.