Fans Need To Tune In To Happy Endings Next Friday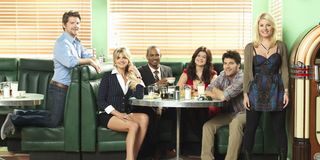 It's always tough for a show to move into a new timeslot. When Golden Boy moved into its one lone Friday night airing, ratings were way down. Partially, ratings on Friday are tough because people—young people especially—are out and about, spending time with friends and family without workplace or school responsibilities to deal with the next morning. Additionally, a Friday schedule can be difficult to break into because there are plenty of veteran series running on the same night, including the likes of Shark Tank and Blue Bloods, and since people are often watching less TV, they choose the shows they know, first. For Happy Endings both of these issues and more were a huge problem in the show's first foray into Friday's schedule, and the numbers aren't spelling good things for the series.
Happy Endings only pulled in 2.4 million total viewers and a lousy .7 rating. According to TV Line, that's a huge drop in the 18-49 demographic from a couple of months ago, when the show was averaging roughly 3 million viewers and a 1.2 rating. Happy Endings' numbers were never that impressive on ABC, but dropping below a 1.0 rating is going to be pretty hard for the network to explain to advertisers. For comparison's sake, Happy Endings pulled in worse numbers than Fashion Star over at NBC, a show whose Wikipedia page wasn't updated for days after the first episode aired. You know it's a sign of disaster when there's no one willing to update a Wiki page for days.
Luckily, Happy Endings doesn't have to directly compete with Shark Tank since the two shows run on the same network, but in the first week out, I'd say Happy Endings has a bigger problem. Viewers don't know that the show has moved nights, or there's not a loyal enough fanbase to care. This could go either way. The series has moved around a lot in this year's schedule. However, since ABC has been running a pretty slick "Save this Show" marketing campaign, it's also possible fans have given up, assuming ABC has also already given up.
I'd love to be wrong. If all of those Happy Endings fans that have brought the show back from the brink of cancellation time and time again show up in droves next week (and the week after, because who are we kidding, ABC will need to look at a longer trajectory), perhaps Happy Endings can earn the good 'ol 1.whatever rating the show used to earn and stop being excess baggage for the network. Let's face it, with Adam Pally and Damon Wayans, Jr. on board, Happy Endings is one of the zaniest shows on television, and there has to be room somewhere for the program's own brand of weird.
Today is Sunday, which means there are five days for fans to coordinate Friday plans to include Happy Endings; otherwise it seems the wicked cancellation witch may get her hands on the series at the end of this season.
Amazing Race & Top Chef superfan with a pinch of Disney fairy dust thrown in. Theme park junkie. If you've created a rom-com I've probably watched it.
Your Daily Blend of Entertainment News
Thank you for signing up to CinemaBlend. You will receive a verification email shortly.
There was a problem. Please refresh the page and try again.