First Look At Agent Carter's Return To Agents Of S.H.I.E.L.D.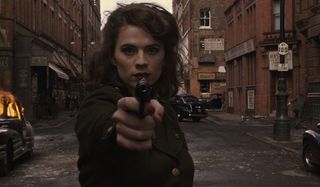 We're two months away from Peggy Carter leading her own TV series, but Agents of S.H.I.E.L.D. can't resist including her in their adventures. After a guest appearance in the Season 2 premiere, she'll be returning in next week's episode "The Things We Bury." While much of this story will revolve around Phil Coulson and his team in an "epic face-off," and Grant Ward and his brother taking a stroll down memory lane, Carter's angle has remained a mystery...until now. ABC has released the first batch of images for the episode, including several pictures of what Peggy will be up to.
As expected, she will be featured in more 1940s flashbacks. However, unlike her last action-packed appearance, this scene seems to be more low-key. This time she's using her interrogation skills on one of the Strategic Scientific Reserve's prisoners, and luckily for us, we're well acquainted with this evildoer.
That's right, it's Daniel Whitehall, better known as WWII-era Hydra officer Werner Reinhardt. The last time Werner was seen in the past, he and his men had been captured by Peggy, Dum Dum Dugan, Jim Morita and their SSR team. Peggy and the men also discovered the collection of artifacts at the Hydra storage facility, including what appeared to be an extraterrestrial body and the Obelisk, an object of immense power that has played a major role this season. Despite being taken prisoner, Werner didn't seem too bothered, casually repeating the Hydra catchphrase "Cut off one head, two more shall take its place."
It's likely that Peggy is questioning Werner about the artifacts and the experiments that Hydra was running on them. Depending on the timeline, World War II is either over or close to being finished. She may try to persuade him to divulge information by pointing out that his side lost, similar to what Colonel Phillips did with Arnim Zola in Captain America: The First Avenger. However, from what we've seen of Werner/Daniel, he's never been one to cooperate. Peggy is skilled, but it will be a difficult challenge trying to break this guy.
As you'll see in the images below, we'll also see Werner back in his Hydra uniform during the episode, although whether this scene takes place before or after his capture is unclear. Agents of S.H.I.E.L.D. doesn't include flashbacks as much as its competitor Arrow does, but these attempts to delve into the past are appreciated. Not only do they give us more background on the main antagonist and his devious machinations, but they also present the chance to include Ms. Carter in the fun, which is a bonus by itself.
For more pictures of Peggy and Werner, as well as looks at the present-day characters, check out the gallery below.
Photo Credit @ ABC
Image 1 of 9
Your Daily Blend of Entertainment News
Connoisseur of Marvel, DC, Star Wars, John Wick, MonsterVerse and Doctor Who lore. He's aware he looks like Harry Potter and Clark Kent.
Your Daily Blend of Entertainment News
Thank you for signing up to CinemaBlend. You will receive a verification email shortly.
There was a problem. Please refresh the page and try again.