Game Of Thrones May Cut Some Of Your Favorite Characters From Season 5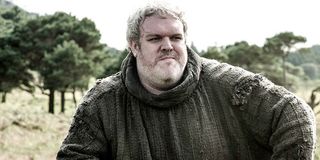 We are a long way off from Game of Thrones' Season 5. Still, HBO has released plenty of news about the upcoming season of the series, including brand new cast members and information about Cersei's long-awaited nude scene. This week, Hodor actor Kristian Nairn casually mentioned he and his team are on hiatus for the next year, which would mean the north of the Wall plotline would be out, as well.
In an interview with ABC that was written up over at Yahoo News, Nairn spoke out about growing up in Belfast, which helped him to prepare for his role in the dark and dim world of Game of Thrones. He also discussed his shooting schedule with the series, stating that his character will actually not appear during Season 5, leaving him free to focus on his Rave of Thrones DJ career.
If you want to catch the words from Nairn's own mouth, take a look at the interview with Monique Schafter, below. The Game of Thrones stuff is in the second half of the interview.
This is where we are going to get sort-of spoilery, so if you haven't read the books, I suggest clicking away right now. Taking some time off would actually make sense for Hodor, Bran and the rest of the gang. At the end of last season, Bran, Hodor and Meera reached the weirwood tree that Bran had been dreaming about. They encountered some wights, but eventually made it into the cave of the children of the forest, who promise Bran many things. Much of this plot is actually in Martin's fifth book, A Dance with Dragons. While there are a few more scenes with Hodor and co. that creators David Benioff and D.B. Weiss could explore, that plot in particular is catching up to George R.R. Martin's writing.
Besides, the show is already crowded with multiple locations, and during Season 5, the showrunners also want to take us to Dorne, where we will catch up with Myrcella and a group of feisty ladies known as the Sand Snakes. It would be even busier were it to continue heading north of the wall, too. Of course, while Nairn seems convinced he won't be a part of Season 5, until HBO confirms or the new season airs, all of this is hearsay—just intriguing hearsay.
Your Daily Blend of Entertainment News
Reality TV fan with a pinch of Disney fairy dust thrown in. Theme park junkie. If you've created a rom-com I've probably watched it.