Glee Watch: Season 3, Episode 15 - Big Brother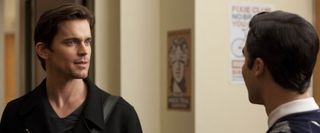 OMG Gleeks! So, after a long winter hiatus Glee returned last night and thankfully didn't make us wait to know Quinn's fate: She lives! And Finchel did not get married! And Sue's having a girl! Let's recap shall we?
Don't Text and Drive
Glee didn't make us wait very long to know Quinn's fate. (Thank you, Ryan Murphy!) Turns out Quinn survived her car accident and has a compressed spine. (Ouch!) Despite being in a wheelchair, Quinn assured everyone that her "plumbing does still work" and is optimistic that she will walk again even when Artie cautiously advises her it's okay if she doesn't.
Although Quinn appeared to be well-adjusted (for the most part), Rachel felt an overwhelming amount of guilt which Quinn immediately absolved Rachel of. I'm sorry but Rachel's constant "me me me, it's all about me" is getting on my nerves, and it looks like it's wearing thin on Finn too.
Finchel Didn't Get Married
As I expected, Quinn's car accident halted Finchel's wedding. (I hope that doesn't mean we've seen the last of Rachel's dads!) But that doesn't look like the only reason these two won't be walking down the aisle anytime soon. Puck, playing Iago to Finn's Othello, whispered two golden words in Finn's ear: California and pools. Puck's plan to move to Cali after graduation and open a pool cleaning business with Finn as his partner is pretty ambitious for Puck. At first Finn balks at the idea, but after thinking about it, comes around and is on board with the Puckster only to find Rachel isn't interested. Again it's all about what Rachel wants. Hmm looks like Finchel is at a crossroads.
Coach Roz versus Sue Sylvester
NeNe from The Real Housewives of Atlanta is back. Yay! And NeNe a.k.a. Coach Roz Washington is gunning for Sue's job, making headway by being promoted co-captain of the Cheerios. Oh snap! Sue better watch out. (Remember on Real Housewives how NeNe "choked" Kim?) I really enjoy how Roz's character can hold her own against Sue. Every time when Mr. Schue attempted to get tough with Sue, he just came across as a wimpy Chia Pet, but Coach Roz has the muscle to back up her threats.
Meanwhile Sue, chock full of pregnancy hormones, immediately went into attack mode striking a deal with Principal Figgins. She'll take over "Booty Camp" and whip New Directions into shape and have them win the $10,000 in prize money which she'll hand over to Figgins. In return, she will assume full control as the only coach of the Cheerios.
Sue is Having a Girl
We learned Sue is having a baby girl who has Down's Syndrome. For some reason, I never saw that twist coming, but I like it. Given Sue's close relationships with Becky and the late Jean, who has and (had) Down's Syndrome, I think it's the perfect storyline for Sue.
Big Brother
Did you know Blaine had a brother before this episode? Neither did I, and Blaine's brother is a hottie. Cooper, portrayed by Matt Bomer, is a star, baby! Popping up everywhere on the televisions and phones of McKinley High faculty and students. I personally loved his hilarious Free Credit Rating Today commercial. I also think Glee could have taken it a step further and had him dress up as the infomercial guy who used to wear those suits with the question marks on them.
For "Big Brother" (minus Julie Chen), Glee played up the familiar storyline of older star sibling versus younger sibling (think Marcia vs Jan). Blaine was in full Jan mode, feeling picked on by his hyper critical "pointing" star brother, and lashing out by singing Christina Aguilera's "Stronger." (Oh my!) After an intense duet of Gotye's "Somebody That I Used to Know" with his brother, it looked like Blaine and Cooper finally came to an understanding, especially when Blaine "pointed" at Cooper. LOL
LOL Moments
Cooper's acting class, specifically the CSI scenes, was great. Remember kids, you're not acting if you don't point your finger and scream like Nicholas Cage! And Cooper signing groupie Sue's breast like he was a Motley Crue member was priceless. LOL Also did you catch the joke with Blaine's brother's name? Cooper Anderson reversed is "Anderson Cooper" the name of the popular reporter and talk show host. Not sure if that's a coincidence but either way nice one, Ryan Murphy.
Memorable quotes
Sue: "It's in my DNA to be intense, okay, just like it's in Porcelain's DNA to poop rainbow glitter."
Cooper: "I'm sorry. Are you talking to me right now? Because I can't tell if you are talking to me if you don't point your finger."
Cooper: "Other choices I can plan ahead of time: screaming all my lines! Because I'm really intense. And the things I'm feeling are really intense! Because I'm a really intense actor! Nicholas Cage, right?"
Sue: "Hey, Mercedes, who you texting?" Mercedes: "I'm not texting anyone, I'm donating to the Obama campaign..."
Music featured
"Somebody That I Used to Know"
"Fighter"
"Hungry Like The Wolf/Rio"
"Up Up Up"
"I'm Still Standing"
Gleeks, next week there appears to be a sex tape scandal involving Brittany and Santana. Also prepare to disco boogie because it's "Disco Glee-ver" at McKinley High." See you next week!
Your Daily Blend of Entertainment News