Glee Watch Season 5, Episode 19: Old Dog, New Tricks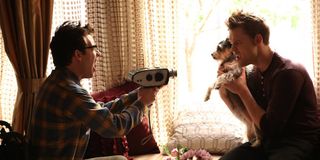 Gleeks, last night's Glee was written by the amazing Chris Colfer (Kurt). He served up some Rachel diva antics, literal puppy love, and a hip Peter Pan. Let's recap, shall we?
Saving Rachel's Reputation
Santana takes the reigns and becomes Rachel's "acting" publicist when the gossip sites start spreading rumors about Rachel's diva ways. Turns out Santana is pretty good at spinning something negative into something positive thus "Broadway Bitches" is born.
The only prob, Rachel won't let a woman and her ginger kid adopt a three-legged dog. Turns out Rachel needs it for photo ups. Uh oh. The angry woman warns that move is going to come back to bite Miss Berry.
Later on Rachel realizes the diva error of her ways (at least for now), and attends Kurt's "Peter Pan" performance with a plan. She is bringing the seniors back to her event so they can perform during "Broadway Bitches" and mingle with pet adoptees. Aw the seniors are thrilled.
Kurt is Peter Pan
Feeling neglected by his friends, Kurt bonds with a former Broadway star named Maggie and her fellow nursing home friends who all just happen to be acclaimed actors.
He learns the group is performing "Peter Pan." After the current Peter Pan dies during rehearsal, Kurt auditions and wins the part. I thought it was a little morbid but still funny. Anyway, Kurt makes the perfect Peter with his boyish good looks and vocal range.
Chris, if you ever get the opportunity to try-out for Peter Pan on Broadway: do it! You are so right for the part!
Puppy Love
Sam bonds with a destructive puppy named McConaughey who has a thing for Mercedes' designer shoes and expensive weaves. (Back off dog, mama needs her shoes!) Needless to say Mercedes isn't pleased.
And even after Sam "trains" McConaughey it's still adios to the pooch. How can they care for the dog when both of them have such crazy schedules, says Mercedes. McConaughey ends up getting adopted by another family.
Favorite Song of the Night
Obviously it was Kurt's rendition of Madonna's "Lucky Star." (That's one of my fav Madonna songs.) The dancing, the vocals, the flying, the sunglasses, it was perfect. I think I may need to add that one to my iPod.
LOL Moments
The name 'Broadway Bitches' says it all. Also when Sam admitted that old people scared him. It was just so random.
Artie blaming Sarah McLachlan was classic.
Memorable Quotes
Kurt: "Years of skinny jeans have prepared me for this performance."
Blaine: "Oh my God, is that Rachel Berry star of Broadway's smash hit musical Funny Girl?"
Santana: "At least you were wearing underwear."
Santana: "Who doesn't love a lady holding a three legged dog?"
Artie: "I blame Sarah McLachlan."
Santana: "Don't listen to her! Look at her shoes!"
Music featured
"Werewolves of London"
"I Melt With You"
"Lucky Star"
"Memory"
Gleeks, next week is the season finale and it looks like relationship shake-ups are on the horizon. And what's up with Blaine and Brittany in bed together?!? See you then!
Your Daily Blend of Entertainment News
Thank you for signing up to CinemaBlend. You will receive a verification email shortly.
There was a problem. Please refresh the page and try again.