Glee Watch: A Very Glee Christmas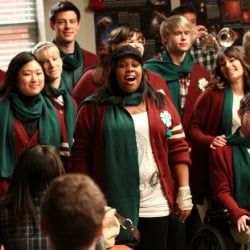 "You're a rotten one…Sue Sylvester." Christmas has arrived and there is a Grinch, wearing a fashionable fur-trimmed track suit, lurking within the walls of McKinley High.
Moral Dilemmas
Believing in magic: Teenage Brittany somehow still believes in Santa Claus. Like Dina Lohan, Artie enables his little Lindsey Lohan and gets the Glee kids onboard to keep Brittany's faith in S. Claus alive. Meanwhile Will tries to recapture the childhood magic of Christmas by helping homeless kids, warning his students that as you become older the holidays lose their luster and become more of an obligation.
Using the holidays to manipulate others: Rachel attempts to use Finn's love of Christmas to her advantage, but it backfires. He sees through her schemes and poor imitation of George Michael and Andrew Ridgeley's "Last Christmas" (she should have frosted her hair and wore a giant cross earring). Finn shuts Rachel down; he isn't ready to forgive her yet.
Selfishness: Sue rigs the faculty Secret Santa so she gets all of the gifts. In contrast, the Glee kids almost go all "Gift of the Magi", but Will stops them just in time. He has a better idea to help raise money/gifts for the homeless children.
Glee Wishes to Santa
The Glee kids take Brittany to see Santa and have a variety of oddball requests.
• Lauren – "I want Puckerman to love me because he's a fox. Oh and some sweet potato fries."
• Quinn – "Do you have anything for stretch marks?"
• Sam – "I want Chapstick. Lots of Chapstick."
• Mike – "I want Channing Tatum to stop being in stuff."
LOL moments
Will's Christmas gift ideas for Sue ranged from a robot dog to a soul; Will and Beiste repo-ing Sue's presents was priceless; and of course, Sue, Becky and Brittany playing the roles of the Grinch, Max (reindog) and Cindy Lou Who.
A Christmas miracle
Coach Beiste comes through for Brittany and Artie by leaving a FieWalk under Brittany's Christmas tree. Artie walks with the aid of the machine, and everyone thinks Santa really did leave the gift.
Best song
This was a hard one. I loved Kurt and Blaine's "Baby, It's Cold Outside" and Sue's "Sue Grinch" song, but I'm a sucker for Dr. Seuss' "Welcome Christmas" so I'd have to go with a three-way tie.
I also thought that it would have been cool if Rachel instead did a spin on "Greensleeves" for her song to Finn (imagine Finn wearing a green sweater). The King's Singers has a great choral version that would have sounded perfect with New Directions harmonizing in the background.
Memorable quotes
• Brittany – "Last year I left my stocking up and an entire of family of mice lived in it. Their Christmas gift to each other was rabies."
• Artie – "I want one Christmas present this year. For my parents to stop friend-requesting me on Facebook."
• Artie to Brittany – "Or a choo choo with square wheels on your caboose."
• Brittany - Can I be honest? I don't understand the difference between an elf and slave."
• Brittany to Santa – "You've gotten really tan." Santa - "Because at the North Pole there is a hole in the ozone."
• Santana on Santa's lap – "Hold-up that better be a roll of Certs in your pocket."
• Sue to Emma - "You're a regular Agatha Christie except even more sexless."
• Sue (about her xmas gifts) – "And I licked each one of them."
• Becky – "Look coach, the janitor got you hideous gloves." Sue – "Thanks. They'll come in handy. No finger prints."
• Sue – "My mastery of camouflage is the only thing that kept me from being court-marshaled after that My Lai misunderstanding."
• Brittany – "I'm bringing a gift for the homeless kids. It's a dollhouse. At least their dolls won't be homeless."
• Brittany to Ken Doll – "Get a good night's rest, Ken, you're going to need it. You have an early flight to Tampa."
• Brittany to Beiste about husky story – "Was her name Ricki Lake?"
• Sue – "I've gifted enough rotisserie ovens to roast a hobo."
Music featured
• New Directions – "Island of Misfit Toys"
• New Directions – "We Need a Little Christmas"
• Rachel – Carpenters' "Merry Christmas, Darling"
• Kurt and Blaine – "Baby, It's Cold Outside"
• Rachel – Wham's "Last Christmas"
• Sue – "You're a Mean One, Sue Grinch"
• New Directions – Dr. Seuss' "Welcome Christmas"
Glee is now on hiatus. Happy Holidays everyone!
Your Daily Blend of Entertainment News
Thank you for signing up to CinemaBlend. You will receive a verification email shortly.
There was a problem. Please refresh the page and try again.