The Green Riddler Suit On Gotham? Here's What The Star Says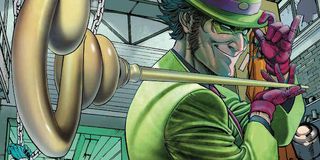 Just like nearly every Batman villain in Gotham, Edward Nygma hasn't yet achieved his villainous legacy yet, but he's moving closer to becoming The Riddler. He already has the obsession with riddles, he's committed murder and now viewers can expect a wardrobe change to come soon. It's been confirmed that the Riddler's trademark green suit will eventually be seen on the show... well, sort of.
Fans can expect Nygma to don a version of the green suit later this season, though actor Cory Michael Smith told Comicbook.com that it will be without one distinguishing feature. As Smith put it:
It's probably too much to also ask Smith to don Riddler's bowler hat as well, but oh well, baby steps. When Riddler first appeared in the comics, he wore a skintight green suit, but later switched permanently over to the fancy green suit, which I'm sure he dug out of a box full of St. Patrick's Day attire. Frank Gorshin and Jim Carrey's Riddlers switched between the tight costume and distinguished dress suit in the 1960s Batman TV series and Batman Forever, respectively. I suspect that whatever Eddie puts on in the near future for Gotham will be dark green rather than the bright shade fans are used to seeing. After all, if he's wearing it to work, he still needs to look professional, and bright green just doesn't cut it.
Spoilers for last night's Gotham episode are ahead!
It's fitting that the green suit, albeit sans questions marks, is on its way, considering the big steps Nygma took towards his villainous identity in last night's episode "Mommy's Little Monster." All season long he's been dealing with his dark side, and that came to a head in "By Fire" when he accidentally killed his girlfriend Kirsten Kringle. Last night's episode saw him trying to find her body after his darker half hid it, and he did so using riddles he left behind. After finally finding her in the morgue, both of his personalities merged into a new Nygma that loves the rush that lying and killing bring.
So now we can expect Mr. Nygma to be more in touch with his murderous side and not worry about the consequences for future Gotham episodes. The downside is that he'll probably start leaving riddles as clues because he can't help it, and as Batman fans know, those are going to be the way he's frequently caught by the Caped Crusader when he becomes a full-on costumed criminal.
You can watch Nygma's journey unfold on Gotham Mondays at 8 p.m. EST on Fox.
Connoisseur of Marvel, DC, Star Wars, John Wick, MonsterVerse and Doctor Who lore. He's aware he looks like Harry Potter and Clark Kent.
Your Daily Blend of Entertainment News
Thank you for signing up to CinemaBlend. You will receive a verification email shortly.
There was a problem. Please refresh the page and try again.