HBO Passes On The Corrections Pilot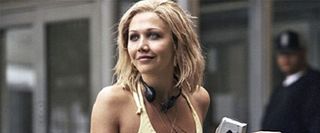 HBO has decided not to move forward on the pilot for The Corrections, which had a seriously impressive cast lined up and ready to go. The project, based on a book by Jonathan Franzen, was starting to come together, but word is that HBO has had to make the call to let it go due to complications with bringing the format of the book to the screen.
It's not the first time the same book has come close to a screen adaptation only to be dropped. Apparently it had already been considered for a feature film, but attempts to get it made were unsuccessful. Deadline reports that the HBO project seems to have hit the same stumbling block as the feature. The plot, which jumps back and forth in time, simply doesn't seem to work well on the screen, whether large or small.
Yesterday HBO picked up the Woody Harrelson and Matthew McConaughey series True Detectives with an eight-episode straight-to-series order, but it doesn't look that that order had anything to do with the decision not to move forward on The Corrections. Instead, the cancellation of Luck is likely responsible for the extra room in the schedule and budget that allowed the new series to jump in.
The Corrections had a stellar cast that included Dianne Wiest, Chris Cooper, Ewan MacGregor, Maggie Gyllenhaal, Rhys Ifans and Greta Gerwig. It's a family drama that follows parents and their grown children through about a fifty-year time period. The narrative in the book simply proved to be too difficult to adapt, so sadly we won't get to see this impressive group of actors on TV together. It's too bad; this project sounded promising.
Your Daily Blend of Entertainment News
Thank you for signing up to CinemaBlend. You will receive a verification email shortly.
There was a problem. Please refresh the page and try again.