Happy Days Creator Garry Marshall Developing A Comedy For Fox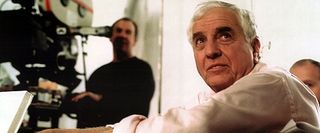 The many behind some of the biggest television hits of the 70s could be coming back to his roots. Garry Marshall, whose credits include Happy Days, Mork & Mindy and Laverne & Shirley, has sold a comedy to Fox that would mark his return to television after focusing mostly on feature films for the last few decades.
TV Guide says Marshall is developing a script for the multi-camera comedy Golden Guys. And for those of you who, like me, were picturing a male version of the classic 80's comedy about a group of retiree roommates, the name is just a coincidence. The comedy is about a man who was once rich and loses everything in a scam, forcing him to move back in with his family. The project is a family affair; Garry Marshall's son, Scott Marshall, is writing and executive producing along with his legendary father.
Scott has appeared in small roles in several of his dad's projects both on the small screen and on the big screen including repeat appearances in different roles on Happy Days and The Princess Diaries 2: Royal Engagement. He's also been working on a directing career of his own including the Jessica Simpson vehicle Blonde Ambition.
For Garry Marshall, this would be the first television project since the 80s, when Nothing in Common was on the air. He went on to such hit films as Pretty Woman and Beaches. Marshall has also spent some time in front of the camera. He recently guest starred on Louie and has done voices for The Simpsons as well. Golden Guys, if it makes it to series, would mark a big return to the medium that launched a very impressive career.