Here's The Brilliant Game Of Thrones And Princess Bride Mash-Up You've Always Wanted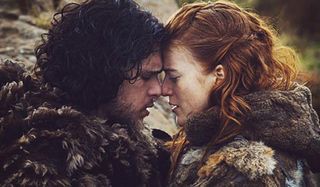 There are a lot of mash-ups on the internet, but perhaps none that are as cleverly put together as "Princess of Thrones," a video that mixes elements from The Princess Bride with the current HBO fantasy series Game Of Thrones. If you've ever quoted Inigo Montoya or been told Jon Snow knows nothing, this video is most definitely for you.
Enterprising Youtube users Shawn Kohne and Todd Spence, who capably mixed two fandoms in a way that is both amusing and makes a startling amount of sense. When the Princess Bride premiered in theaters in 1987, it used the narrative frame of a grandfather reading an epic tale to his grandson while he was out sick from school to launch its fantasy story. Interestingly though, the dialogue between Peter Falk and little Fred Savage actually works to explain the various plots in Game Of Thrones.
Seriously, if you spend a little time thinking about it, The Princess Bride and Game of Thrones actually have quite a bit in common. Both are epic fantasy stories featuring humans and monsters. Both have elements of romance and elements of comedy. There are giants; in The Princess Bride, Andre the Giant plays a helpful giant named Fezzik, while in Game of Thrones, giants help the Wildlings to invade the Wall. There is torture; in The Princess Bride, Westley is tortured, while in Game Of Thrones, Theon suffers the most notable torture. There are even revenge plots in both, with Inigo Montoya looking to find the man who killed his father in The Princess Bride and Oberyn Martell looking to avenge his sister's death with an epic brawl against The Mountain in HBO's hit drama.
With a little bit of editing prowess, this video makes for an amusing and often sheerly impressive mash-up of two stories that have made an impact on popular culture. I'm not really sure how you can top a Game of Thrones and The Princess Bride mash-up like "Princess of Thrones."
Of course, it's not the only Game of Thrones mash-up out there. We've seen a classic death scene from the show mashed up with Bon Jovi's "You Give Love A Bad Name," not to mention another famous GOT scene featuring the aforementioned Theon Greyjoy mashed up with the popular SNL sketch "Dick in A Box." Hell, even an enterprising artists has mashed up The Muppets with Game of Thrones characters before. All of those are missing the intricate editing of the "Princess of Thrones" video and we are so happy these two particular fandoms have been worked together to create something new.
It may not be quite the same as getting new episodes of the HBO drama, but luckily, those are coming, too. Game of Thrones Season 5 is expected to hit the schedule on April 12 at 9 p.m. ET. You can check out some more midseason premiere dates, as well.
Reality TV fan with a pinch of Disney fairy dust thrown in. Theme park junkie. If you've created a rom-com I've probably watched it.
Your Daily Blend of Entertainment News
Thank you for signing up to CinemaBlend. You will receive a verification email shortly.
There was a problem. Please refresh the page and try again.