Hilary Duff May Be Creating A Tinder Dating Reality Show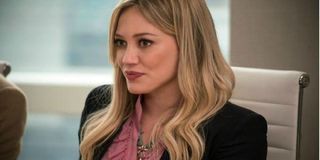 Hilary Duff is moving on! The newly single actress/musician has been taping her dates from Tinder and it could turn into a reality TV show.
According to TMZ, actress and musician Hilary Duff—who is currently starring on the TV Land show Younger—has been allowing cameras to follow her around on her dates from Tinder. Tinder, you may or may not know, is the social networking site that uses location, number of mutual friends and common interests from Facebook to facilitate communication. Tinder is mostly known for dating. The footage from these Tinder dates could possibility turn into a reality series down the line, although Duff has not officially commented on the matter.
TMZ reports that the sources with direct knowledge have confirmed that the Beauty and The Briefcase actress has already filmed two dates, one in a bowling alley and the other at a pizza place in the valley. However, after the second date, Duff went to a bar for drink without the cameras, perhaps indicating that there was indeed a spark between the two. Whether or not there was a spark, Duff shooting her own footage of the Tinder dates could be a lucrative move for the newly divorced actress/singer, lending to her business savvy, even at the expense of her own romantic life. A bold move, yet smart. Then again, we've known how smart Hilary Duff is for quite some time now.
Since the actress starred as Lizzy McGuire in the hit Disney Channel TV show back in 2001, she has managed to remain relevant and viable in an ever-changing pop world. She's also managed to successfully transition from a child actress to more mature roles, even manipulating her image as a musician with a sense of effortless ease. Perhaps, people are indeed ready for a reality show featuring the maturing actress as she treads the choppy waters of dating after a divorce. In an all-access celebrity world that we live in, by doing so, she would certainly put herself ahead of the curve. If the Tinder dates do turn into to dating reality show, it won't be the first jaunt into reality TV for the actress.
Hilary Duff previously starred in a documentary for television back in 2007, Hilary Duff: This Is Now. The two-part reality television series documented the singer's promotional tour in Spain for album Dignity. Seven years later, Duff joined her older sister, Haylie Duff, for three episodes in the first season of her lifestyle docuseries The Real Girl's Kitchen on the Cooking Channel. A potential dating show based on her Tinder dates would be the first reality show that the actress has attempted since announcing her divorce from ex-husband, former Canadian NHL player, Mike Comrie.
Your Daily Blend of Entertainment News