Watch Britney Spears And Jimmy Fallon Explain The Pros And Cons Of Dating Britney Spears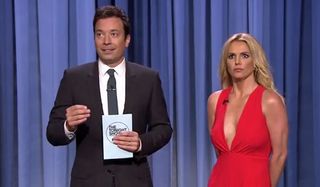 Jimmy Fallon's been on a roll with viral videos since he kicked off his tenure on The Tonight Show. On Tuesday night, Fallon took some time out of his evening to discuss the pros and cons of dating the recently single Britney Spears. You can check out the theories, below.
Fallon's not exactly the expert on Britney Spears, but Spears herself is. Thus, he enlists her help for the sketch, bringing her out from behind a curtain in the plungiest of plunging jumpsuits. It's amazing that Spears still inspires the amount of cheers, whistles and utterly crazed fandom that she gets on The Tonight Show when introduced. She's an icon. I'm not sure if that's a pro or a con.
According to Fallon and Britney, there are numerous reasons you should date the pop singer, but there's a con to go along with every pro. A pro? If you dated Spears, you could "cuddle in bed and watch your favorite show together. A con? That show would be The Late Show with David Letterman. A pro? "Since she arrived here, she's already been asked out by 10 different people." A con? All of those people are members of The Roots.
The Tonight Show sketch went on in this manner for a while, but it's not even the best part. Fallon and his evil genius writing crew also signed up Britney Spears for the dating app Tinder. She's got a funky photo holding a perfume bottle, and she's really just looking for love.
So, if you are a Tinder user in the right time and the right place, you may very well have the chance to date the famous blonde singer. There are two things that are extremely important to remember. First, she's probably not looking for a late-night, drunken bar hook-up. Second, remember to swipe right.
Fallon's had a couple of classic moments with celebrities over the past couple of months. He recently had Adam Levine on for a musical impressions game, during which Levine threw out one of the sickest Michael Jackson impressions we've ever seen. He also recently cut off Jared Leto's beard live on national television. Usually Fallon's games are fun, if not a little bit silly, but at this point, he and The Tonight Show have earned a loyal fanbase for these sorts of antics. I just can't wait until he gets Michelle Obama into a potato sack again.
Your Daily Blend of Entertainment News
Reality TV fan with a pinch of Disney fairy dust thrown in. Theme park junkie. If you've created a rom-com I've probably watched it.
Your Daily Blend of Entertainment News
Thank you for signing up to CinemaBlend. You will receive a verification email shortly.
There was a problem. Please refresh the page and try again.