House Of Cards Season 2 Review: Netflix Deals Another Winning Hand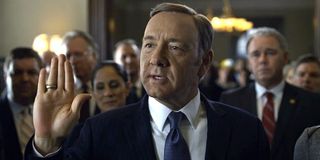 "Did you think I'd forgotten you?"
The debut season of House of Cards caught everybody's attention, with the series earning both Emmy and Golden Globe nominations as well as recognition from the AFI as on of the year's significant achievements in television. Oh, and it was also one of our favorite new shows of 2013. Why all the talk about last season? Because it's pretty much second verse same as the first. And that's not a knock. Anytime a critically acclaimed show is able to avoid the so-called sophomore slump, that's a success in itself. Right, Homeland? If you loved the first season of House of Cards, you'll likely love the second.
It's not that the fresh blood, both behind and in front of the camera, aren't welcome, they all (directors, writers, actors) just excel in the pre-established design carefully crafted by Academy Award nominees David Fincher (who won the Outstanding Directing For A Drama Series Emmy for the premiere, setting the steely tone for the entire run), and creator Beau Willimon. The second season was once again conceived by Fincher, now in only an executive producing role, and Willimon with the help of Eric Roth, four-time Oscar nominee and one-time winner. Roth doesn't just write quality films but ones that all share an interest in 'Americana,' a perfect fit to help craft House of Cards' Season 2 storyline.
The writing, largely handled by creator Beau Willimon (taking care of five episodes on his own while co-scripting three others), is just as sharp as ever with multiple extremely compelling storylines, a large ensemble of well-drawn characters and witty dialogue. I've only seen "Chapters 14-16" (the first two written by Willimon, the last by Bill Cain) and, I must admit, it was hard to stop to write this review. Once I realized mid-way through the first season that House of Cards was crafting a borderline unbelievable conspiracy narrative set in a very believable world, it's been nothing but a great ride.
I've said it before but it bears repeating, VEEP is probably a more accurate reflection of Washington than the Netflix drama. While both series excel at depicting the backdoor dealings of government, the comedy hasn't had to resort to using murder as a storyline. Yet. The murder investigation may keep audiences binging, however, House of Cards' illegal activities are not the only interesting thread in Season 2 as Willimon (and fellow writers Cain, Laura Eason, Kenneth Lin, John Mankiewicz, Bill Kennedy and David Manson) is able to add some realistic political intrigue that's also quite gripping and reflects upon recent events.
"There is but one rule, hunt or be hunted."
Kevin Spacey's Vice President Frank Underwood is a master manipulator on and off the court. Spacey is once again really fun to watch in the part and there isn't really a weak link in the cast, especially those returning to reprise their roles from last season. Michael Kelly remains a highlight as Underwood's fixer and Sebastian Arcelus makes good on his increased screen-time. As far as that 'fresh blood' Molly Parker (Deadwood) immediately impresses, her character is like Underwood in training, and Jimmi Simpson (It's Always Sunny In Philadelphia) is always a treat.
And then there's Robin Wright as Claire, Frank's wife and an equally adept manipulator, who is so good she deserves her own paragraph. Of course, this is no surprise since she won the Golden Globe for Best Actress in a TV Series, Drama for her work on House of Cards' first season. Don't be surprised if she repeats with her portrayal adding so much depth to what could very easily be a way over the top character. She and Spacey make a good team. It's also worth noting that Wright's involvement in the series expanded with her directing "Chapter 23." Her debut behind the camera. I'm sure she handled the job just fine, since all the directors are following the template laid down by Fincher in the series premiere.
No offence to Lilyhammer but Netflix really made its mark when it comes to original series with House of Cards. Even though it aired well after the Norwegian-set crime drama starring one of The Sopranos, the political thriller will probably forever be remembered as the streaming site's first foray into creating their own shows. When the legend becomes fact, print the legend. And that rewriting of history is only fitting for the drama adapted from Michael Dobbs' novel (and the BBC miniseries) of the same name that showcases the shady deals and spin that happen in the highest level of the American government. Vice President Frank Underwood would be very pleased.
"Welcome back."
The entire second season of House of Cards is now available to stream on Netflix. Season 3 has already been ordered. Based on Michael Dobbs' novel and Andrew Davies' BBC miniseries of the same name, the American version was developed by David Fincher, Beau Willimon and Kevin Spacey and stars Spacey, Robin Wright, Molly Parker, Michael Kelly and Kate Mara as well as Kristen Connolly, Sebastian Arcelus, Constance Zimmer, Mahershala Ali, Sakina Jaffrey, Rachel Brosnahan, Samuel Page, Gerald McRaney and Michel Gill.
Your Daily Blend of Entertainment News