Golden Globe Awards TV Winners List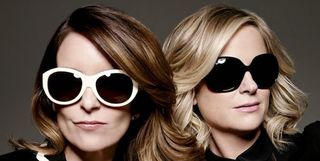 The Golden Globe awards air tonight! While some of Hollywood's best and brightest will be gliding down the red carpet and into the Beverly Hilton to attend the event, the rest of us will be in our living rooms, watching from afar and hoping our favorite shows, movies and actors managed to secure the favor of the Hollywood Foreign Press enough to snag an award or two. Cinema Blend will be live-blogging the entire event, and you're invited to join in and comment on everything from the fashion to the speeches, the awards and the sure-to-be hilarious returning hosts, Amy Poehler and Tina Fey.
The 71st Annual Golden Globe Awards air LIVE on NBC coast-to-coast from 5-8 p.m. PT and 8-11 p.m. ET.
The movie categories can be viewed here.
Best TV Series, Drama
Breaking Bad
Downton Abbey
The Good Wife
House of Cards
Masters of Sex
Best TV Series, Comedy or Musical
The Big Bang Theory
Brooklyn Nine-Nine
Girls
Modern Family
Parks and Recreation
Best Miniseries or TV Movie
American Horror Story Coven
Behind the Candelabra
Dancing on the Edge
Top of the Lake
The White Queen
Best Actress in a TV Series, Drama
Julianna Margulies - The Good Wife
Tatiana Maslany - Orphan Black
Taylor Schilling - Orange is the New Black
Kerry Washington - Scandal
Robin Wright - House of Cards
Best Actress in a TV Series, Comedy
Zooey Deschanel - New Girl
Lena Dunham - Girls
Edie Falco - Nurse Jackie
Julia Louis Dreyfus - Veep
Amy Poehler - Parks and Recreation
Best Actor in a TV Series, Comedy
Jason Bateman - Arrested Development
Don Cheadle - House of Lies
Michael J. Fox - The Michael J. Fox Show
Jim Parsons - The Big Bang Theory
Andy Samberg - Brooklyn Nine-Nine
Best Actor in a TV Series, Drama
Bryan Cranston - Breaking Bad
Liev Schreiber - Ray Donovan
Michael Sheen - Masters of Sex
Kevin Spacey - House of Cards
James Spader - The Black List
Best Supporting Actor in a Series, Miniseries or TV Movie
Josh Charles - The Good Wife
Rob Lowe - Behind the Candelabra
Aaron Paul - Breaking Bad
Corey Stoll - House of Cards
Jon Voight - Ray Donovan
Best Supporting Actress in a Series, Miniseries or TV Movie
Jacqueline Bisset - Dancing on the Edge
Janet McTeer - The White Queen
Hayden Panettiere - Nashville
Monica Potter - Parenthood
Sofia Vergara - Modern Family
Best Actress in a Miniseries or TV Movie
Helena Bonham Carter - Burton and Taylor
Rebecca Ferguson - The White Queen
Jessica Lange - American Horror Story: Coven
Helen Mirren - Phil Spector
Elisabeth Moss - Top of the Lake
Best Actor in a Miniseries or TV Movie
Matt Damon - Behind the Candelabra
Michael Douglas - Behind the Candelabra
Chiwetel Ejiofor - Dancing on the Edge
Idris Elba - Luther
Al Pacino - Phil Spector
Your Daily Blend of Entertainment News