House's Hugh Laurie Planning To Reunite With British Comedy Partner Stephen Fry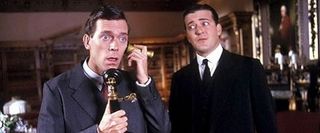 With the House finale only a week away, it looks like Hugh Laurie is looking forward to his next step – while looking back at where he came from. It seems he'll be teaming back up with former comedy partner Stephen Fry, who leaked the news of a project in the works for the former partners via his Twitter account.
Fry and Laurie are "cooking up a project together", Fry said in his tweet, going on to add that while he can't spill any details just yet, he'll be passing on more information as it's available. Many House viewers aren't aware of it, but Hugh Laurie actually is British, and is known in his native country as half of of a sketch comedy duo. Laurie and Fry put their act on together from 1989 – 1995 on the BBC sketch comedy show A Bit of Fry and Laurie. They've been working together since they met while attending Cambridge University, and have also appeared together in Peter's Friends, a 1992 Kenneth Branagh film.
So what are Dr. House and his former colleague planning? It's anyone's guess at this point, but apparently Fry's Twitter account is the place to watch for updates. If you're interested in what the dup were up to before Laurie spent eight years playing the rudest doctor on television here in the U.S., Netflix has A Bit of Fry and Laurie available to stream. Perhaps it will ease the pain of saying goodbye to House after the season finale airs next week.
Your Daily Blend of Entertainment News