How Far Supergirl's Ratings Fell During Week 2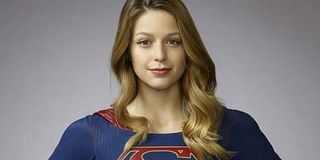 Supergirl kicked off just last week with a super-charged premiere. During the night the show aired, 12.9 million total viewers tuned in to see Melissa Benoist don the skirt and the cape for the first time. This week, the new CBS drama aired its second episode, and as often happens after a show's premiere, the numbers were down. This week only 8.9 million total viewers tuned in for Episode 2. That's a 30% drop in total viewers willing to stick around for a second episode.
Honestly, a 30% drop in viewers is a huge chunk of the show's audience and I'm certain that CBS isn't super happy about the numbers this morning. In addition to the overall viewers drop, the show also only did a 2.2 rating in the coveted 18-49 demographic. That's still a ratings number that a lot of other shows would kill for (figuratively, we hope), but it's a far cry from the 3.2 rating the show did last week. In fact, it's enough of a drop that Supergirl ended up in the #2 slot on Monday night, according to Variety. Blindspot took the #1 honors as the most-watched scripted program. So, why did Supergirl drop so much?
First, it should be noted The Big Bang Theory had been crushing in its Monday night timeslot, and last week CBS got as many eyeballs as possible in front of the Supergirl pilot by airing a brand new episode of The Big Bang Theory just before that aired. This week, The Big Bang Theory has been shuffled back to Thursday nights, meaning the 14.5 million viewers who catch that show live might not have chosen to watch CBS last night. That could, at least, be a partial reason for the drop.
Secondly, while the first Supergirl was watched by a lot of curious viewers, sentiment related to just how exciting and watchable the female superhero series is remains split. Even in the CB office, we can't get on the same page regarding how we feel about the drama, and the average viewers at home seem to feel the same way.
Finally, most shows do drop a bit after their premieres. It's a phenomenon that other comic-based series Gotham saw just last year, although that drama slowly dropped over the course of its first season, rather than shedding a whopping 30% right off of the bat. Because Supergirl started so high, maybe it's only natural that a few more people would be disinterested after the first episode. We'll have to wait and see how Supergirl fares in the coming weeks.
You can catch new episodes of Supergirl--without The Big Bang Theory lead-in on Monday nights at 8 p.m. ET.
Reality TV fan with a pinch of Disney fairy dust thrown in. Theme park junkie. If you've created a rom-com I've probably watched it.
Your Daily Blend of Entertainment News
Thank you for signing up to CinemaBlend. You will receive a verification email shortly.
There was a problem. Please refresh the page and try again.