Supergirl Is An Even Bigger Hit Than We Thought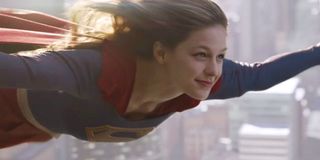 The fall season is in full swing, meaning that the winners and losers are becoming more and more apparent with each passing week. Although it experienced a few hiccups prior to its release, CBS' new DC comics-based series Supergirl seems to have lived up to its name. Get the details below to see for yourself just how well it's doing so far this fall season.
The premiere of Supergirl saw a great performance in Live+3 viewership, leading the show to garner around 16.13 million total viewers. As we have already reported over this past week, Supergirl has already been doing quite well -- averaging roughly 12.9 million viewers during its premiere broadcast – making it the #1 ranked premiere of a new series this fall. The inclusion of DVR viewers added roughly 3 million extra viewers to that initial number. This performance seems all the more admirable when one considers the fact that the Supergirl pilot leaked online months ago.
As a hotly anticipated new series, many fans likely opted to get in on the action early, forgoing the decision to watch the series when it actually premiered on CBS. Despite being downloaded at least 120,000 times, there still existed enough interest in the series for people to watch the pilot in its intended form. Some of this good fortune can be attributed to its strategic position in the CBS lineup – after The Big Bang Theory, and out of the way of Fox's Gotham – but high numbers are still high numbers, especially considering the criteria.
The Live+3 criterion includes anyone who watched the program live, or on his or her DVR within 3 days of the show's initial broadcast. Essentially, this means that if you are the type of person who waits weeks to binge watch multiple episodes of a show, and then you will not be counted.If you haven't heard much about Supergirl yet, here's what's coming up this season.
Despite Supergirl's good fortune so far, the drama still faces some stiff competition. While CBS' series about the young female Kryptonian saw the best performance of a new series premiere, the show is still losing to Blindspot in the Live+3 numbers. According to Deadline, the NBC drama has continually dominated the 18-49 demographic; it's premiere did a 4.5 rating compared to Supergirl in Live+3, which only did a 4.1 rating.
So for now, in the face of adversity, it looks as though the tale of Kara Zor-El is holding strong. We will keep you posted any news regarding Supergirl; in the meantime, the series airs Monday nights at 8 p.m. ET on CBS.
Originally from Connecticut, Conner grew up in San Diego and graduated from Chapman University in 2014. He now lives in Los Angeles working in and around the entertainment industry and can mostly be found binging horror movies and chugging coffee.
Your Daily Blend of Entertainment News
Thank you for signing up to CinemaBlend. You will receive a verification email shortly.
There was a problem. Please refresh the page and try again.