How Grant Gustin Feels After The Crazy Flash Finale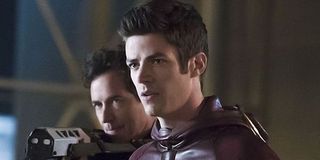 Season 2 of The Flash has come to an end, but the finale had enough craziness going on that we should have plenty to talk about while we wait for Season 3. Barry Allen was put through both the emotional and the physical wringer as he went from burying his father to racing a supervillain to almost certainly changing an entire timeline by saving his mom from ever being murdered. Now, based on what he's had to say on social media, Flash star Grant Gustin went through the wringer as well.
Grant Gustin's comments on his Twitter account make it pretty clear that he's seen some of the "Holy shit!" reactions that have been circulating ever since the finale aired. Between viewers who have no idea what could possibly come next and comic fans who have a pretty good idea about what might be coming next, there are plenty of people with plenty of ideas about what just happened on The Flash. Honestly, it would be hard to blame him if he preemptively tweeted that he knows nothing about Season 3 just to avoid being approached for information. Even if he secretly knows the plot synopsis to every single episode of Season 3, he certainly can't start dropping spoilers already.
The Flash definitely didn't give Barry much in the way of peace in Season 2, and his confidence seemed to wax and wane from episode to episode. Frankly, the closest that we got to a fun Flash in Season 2 seemed to come whenever Barry crossed over to another show. Foiling the perkiness of a cocky Barry against the cautiousness of Sir Grumps-A-Lot Oliver on Arrow is always worth a laugh, and Barry found a great sunny pal to play with when he met Kara over on Supergirl. Hopefully, Season 3 of The Flash will eventually give Grant Gustin a break from some of the doom and gloom and let Barry show his fun side again on his own show.
Of course, The Flash is bound to get darker before it gets any lighter. Barry just did a very big and very bad thing by interfering with the timeline that ultimately turned him into the Flash, and Season 3 will need to deal with the repercussions of what he's done. If the plot follows the "Flashpoint" story of DC lore at all, those repercussions will teach Barry a lesson that he won't soon forget.
Grant Gustin may love being Barry, but we won't get to see him back in the speedster suit for quite some time. The Flash is now on hiatus until the fall. Check out our breakdown of what we know so far about Season 3 for a peek ahead, and take a look at our summer TV premiere schedule.
Resident of One Chicago, Bachelor Nation, and Cleveland. Has opinions about crossovers, Star Wars, and superheroes. Will not time travel.
Your Daily Blend of Entertainment News
Thank you for signing up to CinemaBlend. You will receive a verification email shortly.
There was a problem. Please refresh the page and try again.