How Krysten Ritter Is Preparing For Her Role As Jessica Jones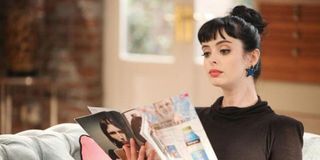 Recently, Krysten Ritter was confirmed as the title role in the upcoming Netflix Marvel series, A.K.A. Jessica Jones. Within a week of the announcement, the young actress is already starting to prepare for her role. And to do so, she picked up some comic books and went straight to the origin of the character.
In a recent interview with Cosmopolitan for her upcoming role in Tim Burton's Big Eyes, Ritter discussed the TV role, and her excitement that came along with it. When asked if she was a comic book fan before getting the Jessica Jones role, she responded:
.
Anyone who listens to the podcast, Serial knows how addicting it is. So making that comparison, is quite the statement. And there's bound to be some great studying material in the books for Ritter to absorb and help to make her version of Jessica Jones as authentic as possible.
Jessica Jones was was created by comic book writer Brian Michael Bendis. She first appeared in Marvel Comic's Alias #1 (unrelated to the JJ Abrams TV show) in November 2001, went on to appear in the New Avengers comic book series, and even appeared in an Ultimate Spider-Man issue.
Jessica Jones attended high school with Peter Parker, and was a normal woman until a car accident covered her with chemicals and put her in a coma. When she awoke from the injury she had developed superhuman powers including super strength, the ability to fly, and superhuman durability. With her new powers, she attempted to become a superhero, but after little success, and traumatic events, she decides to hang up her cape. As a trained investigator, Jessica Jones began a new career as a detective, specializing in helping other superheroes, which is what the new TV series will explore. She is also in a relationship with Luke Cage, another superhuman Marvel hero, who has not officially been cast, but there's reportedly a strong leaning towards Mike Colter of The Good Wife.
If Krysten Ritter is studying up on her character, and dedicating herself to the process, this show has potential already. The first season of A.K.A. Jessica Jones is expected to be 13 episodes. It may be a while till we see it stream on Netflix, since another collaboration, Daredevil is expected to stream first in 2015. But if they can pull off something of substance, it'll be well worth the wait.
Your Daily Blend of Entertainment News