Hugh Laurie Says He'll Quit TV After House Is Done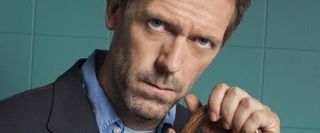 Hugh Laurie has been winning fans and assuring us that it isn't lupus for going on eight seasons as the acerbic Dr. Gregory House on Fox's House M.D.. Once that show finally wraps up its run, however, we may not be seeing any more of Laurie on the small screen. In an interview with the U.K.'s Daily Record, Laurie says that he plans to move on from television -- but not from acting -- after the end of House.
Laurie said that he feels, "extremely lucky to have had the one shot that I have had at it and I wouldn't go looking for lightning to strike twice." He is quick to clarify that this doesn't mean he's through acting -- just acting for television. He may still be involved with TV projects in the future, but on the other side of the camera. "I think I will probably be as interested by either writing or producing or directing, or some other aspect," Laurie said. "I find the whole field of it fascinating." He also has no plans to stop appearing in movies, having lent his voice to the upcoming animated film Arthur Christmas, and with a role in next year's war movie Mister Pip, directed by Andrew Adamson (The Chronicles of Narnia).
If Laurie does indeed follow through and bow out of TV, it will be the end of three decades' worth of roles on the small screen. In addition to showing off his spotless American accent on House for nearly a decade, he's appeared in funny and iconic British shows such as Blackadder, Jeeves and Wooster, and A Bit of Fry and Laurie. (You can -- and should -- watch two of the three on Netflix Instant Watch.) He'll always be the foppish, dimwitted Price Regent to me.
Your Daily Blend of Entertainment News
Thank you for signing up to CinemaBlend. You will receive a verification email shortly.
There was a problem. Please refresh the page and try again.