Interview: Aziz Ansari Talks Tom Haverford's Food Nicknames And More From Parks & Recreation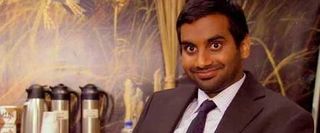 Coming off a third season in which every single episode seemed like a grade-A winner, the Parks & Recreation cast is finally back on set to get the fourth season started. A few weeks ago, while talking to him about his new movie 30 Minutes or Less (you can watch that part of the interview here), I also had to get in a few questions about Parks & Recreation. Since the new season hadn't started yet there wasn't really anything to learn in terms of plot spoilers, but I asked him about the way he's embraced some of the more popular internet memes about the show on his Tumblr, how he came up with some of his epic food nicknames, and how he and Ben Schwartz, who plays Jean-Ralphio, help come up with even dumber ways for their characters to greet each other.
Take a look at the five-minute chunk of our interview below, and join me in counting down the days until Parks & Recreation returns on September 22. Oh, but first, revisit this epic Ron Swanson dancing GIF, which Aziz mentions in the interview as one of his favorite fan creations.
Your Daily Blend of Entertainment News
Staff Writer at CinemaBlend