Jane Fonda Joins Aaron Sorkin's HBO Drama Newsroom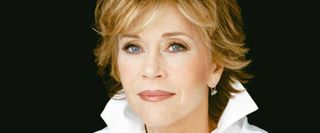 It seems more has developed for the new HBO series that was once going by the name More as the Story Develops. The show, created and written by the unparalleled Aaron Sorkin, is adding even more pedigree to the already incredibly prestigious series, now operating under the title Newsroom. And while the tentative title couldn't be any more boring, adding two-time Academy Award winner Jane Fonda to the show should certainly help keep the finished product from being anything but bland.
TVLine broke the news that the veteran actress would be joining the series (in her first major TV role) to play the recurring role of Leona Lansing, the CEO of the cable news network's parent company. She will be a main source of conflict as her company's corporate concerns often conflict (and perhaps trump) with objectively reporting the news. As the article notes, the character's name is an interesting combination of two legendary Hollywood business women, Leona Helmsley and Sherry Lansing. This is even more coincidental (or not) given the fact that Fonda was recently given the Sherry Lansing Award for Leadership by The Hollywood Reporter during their annual Women in Entertainment Power List hoopla. She joins an already stunning cast that includes veterans and fellow award winners Jeff Daniels and Sam Waterston.
Newsroom, which follows the behind the scenes exploits of a fictional news network, is just one of many projects that Mr. Sorkin has on the go - including a Chateau Marmont mini-series at HBO with John Krasinski as well as hovering around the Steve Jobs bio-pic as a possible scribe. Sorkin's return to television with Newsroom is obviously an exciting prospect since he is the man responsible for creating and writing several of the most engaging shows of the last few decades like Sports Night (another exercise in title blandness) and The West Wing. Lastly, with the talent that he and HBO have accumulated for the new series, well, I can't wait for it to hit my TV screen. In the meantime, get your Sorkin fix with Moneyball and your Fonda fix by renting Klute. You won't be disappointed with either.
Newsroom (or whatever the final title will be) will air on HBO sometime in 2012 and stars Jeff Daniels, Emily Mortimer, Alison Pill, John Gallgher Jr., Olivia Munn, Dev Patel, Thomas Sadoski, Sam Waterston and now Jane Fonda in a recurring role. It was created by Aaron Sorkin.
Your Daily Blend of Entertainment News
Thank you for signing up to CinemaBlend. You will receive a verification email shortly.
There was a problem. Please refresh the page and try again.