Kim Kardashian's Pregnancy And Maybe The Birth Will Reportedly Be Covered By E!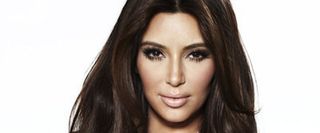 Following the news that Kim Kardashian and Kanye West are expecting their first child together, fans of both the reality TV star and rapper are likely eager for more details on the couple's anticipated arrival. While I'm sure we can expect plenty of news updates on the pregnancy as the months fly by, it sounds like E! has plans to cover the pregnancy and possibly even the birth.
THR checked in with E! president Suzanne Kolb, who speaks highly of Kim and Kanye, describing them as an "incredibly dynamic couple" and going on to say, "Like so many Kardashian fans, we love it when this close-knit family gets even bigger. We look forward to sharing the joy as they prepare for more diapers, more bottle and without a doubt, more fabulous baby wear."
A pie chart of E!'s programming would likely show a sizable chunk dedicated to the Kardashians, between Keeping Up with the Kardashians and the spin-off series that have aired. In fact, Kim will be re-teaming with her sister Kourtney for the next season of Kourtney & Kim Take Miami, which premieres January 20. At some point, her pregnancy may find its way into the reality TV programming, if not with K&K than perhaps with oen of the other shows or a special. There aren't a lot of specifics on that yet, but THR credits an insider source as saying that E! "will continue to cover all aspects of Kim's life as it always has," which THR says includes the pregnancy and perhaps even the birth.
Celebrity pregnancies are always a source of curiosity for gossip fans, but I expect Kim's pregnancy to be an even bigger deal, given how much of her life has been documented on reality TV in recent years. Her wedding to Kris Humphries (to whom Kardashian is still legally married) was a huge TV event for E!, so it seems likely that her first baby will be just as big, if not an even bigger deal.
Kourtney & Kim Take Miami premieres January 20 at 9:00 p.m. ET on E!
Your Daily Blend of Entertainment News
Thank you for signing up to CinemaBlend. You will receive a verification email shortly.
There was a problem. Please refresh the page and try again.