Laguna Beach: How to Save a Season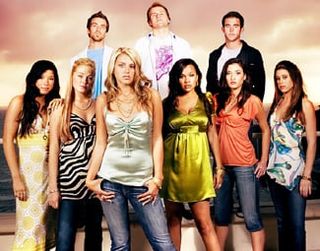 The masterful editors of Laguna Beach just proved that you can really just wow people in the end to make up for an inferior beginning and middle (and the couple of weeks before the end). This season had incredible past finales to live up to and, thanks to the ingeniousness of these editors, this finale invoked the intricate angst of pre-summer high school endings, while staying true to the show's gloriously vapid roots. The stakes were at their highest, reminding us why the delectable melodrama that is 'Laguna Beach' is so incredibly riveting. Tessa made a whiny narrator undeserving of a role previously held by LC and Kristin and Kyndra made a villainess that tried way too hard at being mean, but somehow this one epic hour of LB journeying made watching the rest of the otherwise drab season worth it. When Tessa watched that sunset slide down the pristine Laguna sky, that same rare and poignant chord within all of us awoke. Yeah that's right, the same chord that struck in Season One when Stephen was there waiting to pick up LC.
Laguna graduations have never been particularly meaningful. Alex, Kelan, Derek, and Nick Walker (we finally found out the W. stands for) were among those who had to wear those crimson gowns we have come to know so well. The speech was emptier than usual (ahem, "Those who mind don't matter and those who matter don't mind"), but Cameron and Kyndra managed to get into a fight. Kyndra told Cameron that she'd be really angry if he didn't stand for their friends, and Cameron pointed out that he was a significantly better friend to the boys than she ever was. Cami let down her condescending guard and flat-out bawled. Rocky, who claimed to not have actually cried at the ceremony, shed some of her characteristic tears as she moped with her mother about the future of her relationship with Alex after the ceremony.
Cameron and Kyndra mended the lingering awkwardness of their argument as they presented the Senior Slideshow at Cameron's beginning-of-the-summer barbeque. Kudos to the LB producers for digging up some hilarious childhood pictures of Kelan and Cameron (they seemed to be the only ones in the show), and, um, sorry Kyndra and Cameron, but there is no way that anyone could ever believe you guys put that together yourselves.
The summer lasted about twenty minutes (in Seasons One and Two it was spread out over a few weeks) and Cameron seemed to be the only person anyone wanted to say goodbye to. Cameron watched Kelan drive to school in San Diego (apparently you can have a record deal with Epic AND go to college) after an emotionless goodbye. Cameron gave Jessica a call hoping she'd fill up the major emptiness left by Kelan, and said some pretty stunning words, like, that she is his best friend. Jessica looked like she was confused by some off-screen cues, not knowing whether to smile or to give that typical, suspicious look of hers. God bless her.
Breanna sent Rocky a letter, because, after all, she's "better on paper." The all-star writer came up with some pretty convincing friendship mending words and got Rocky to come over and exchange some hugs. The girls reconciled in what seemed like seconds, but the whole Tessa Question still loomed. Rocky later broke the news to Tessa, who civilly walked out on her, citing the whole Breanna hating her thing. Now there's some unresolved catty tension for Season Four.
Chase got some call from some producer to go to LA for some indeterminate amount of time (yeah, exactly). (Wouldn't Kelan need to go with him if it was for Open Air Stereo business?) It looked like Cameron was the only one to say goodbye to Chase, who wasn't sure if he'd be going back to Laguna High. All Tessa got from him was some random voicemail telling her to "have a good Senior year."
Rocky and Alex finally got around to discussing the whole long-distance relationship issue and, before Alex gave Rocky a remember-me-while-I'm-at-college ring, agreed to stay together. In the words of Tessa, sigh.
The flawlessly executed concluding montage began as Kyndra-Cami-Lexi and some other never-before-seen bitches (potential Season Four regulars?) toasted to a perfect Senior Year. Cami, declaring the lameness and unworthiness of being talked about that is Rocky and Tessa, conceded that she'd only have to be annoyed with them for one more year. And just as all that juicy foreshadowing painted the shallow canvas of a promising Season Four, Tessa listened to Chase's meager voicemail on the beach alongside the shot of Chase as he drove away while Rocky and Alex meaningfully walked the beach. The ineffable spark of Seasons One and Two was once again captured even if it was a little too late. The meaningful silhouette of Cameron skateboarding alone on a Laguna road and that final shot of the glistening Laguna sunset served as perfect symbols for the potent pathos of Laguna Beach. It all comes down to Jessica.
Discuss the latest Laguna Beach gossip in our forum, here!
Your Daily Blend of Entertainment News