MTV, CMT And VH1 Will Air 4th Of July Music Video Marathons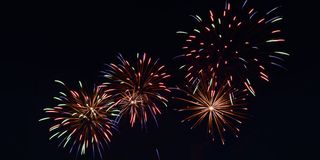 There's nothing that spells summer like a Fourth of July celebration complete with grilling out, fireworks, and (we won't judge you) more than a little beer. However, MTV, VH1, and CMT have come together to offer an alternative holiday for those who are not fans of the outdoors, or who need something to do if fireworks officials happen to shoot them all off at once. Just like the good 'ol days, the three cable stations have plans to return to the roots that made the channels famous and play music for a full 12 hours.
From 6 a.m. ET to 6 p.m. ET on July 4, all three music channels will indulge in a special block of programming they are calling "Music Independence Day." While MTV announced in a press release that the three different channels are promising a variety of music "from hip hop to bluegrass" it wouldn't be a true Independence Day for music without an independent component. Luckily, that's exactly what the three stations have planned.
MTV is allowing artists and groups to sign up to be a part of "Music Independence Day" via the network's Artists Platform on MTV or equivalent sites on VH1 and CMT. The networks will each respectively choose videos to play during the 12-hour that will include some well-known favorites, as well as plenty of newer, independent voices in the music scene.
I can still remember days past when MTV and VH1 would spend hours debuting and playing music videos, including the popular video programming, pop-up videos, and more than enough Carson Daly. The music video heyday may be over, but it should still be nice to drop in to the three channels and check out at least a few music videos on the small screen, since music fans more often get to see their favorite music on a much smaller computer screen.
MTV, VH1, and CMT each are taking a different spin on "Music Independence Day." CMT is going for "established" music and other music "across the fringes" of the country spectrum. VH1 has plans to send network favorite Jim Shearer to Philadelphia, Pennsylvania, where he will host the extravaganza. Additionally, from 8-11 p.m. ET, the network will air the special Philly 4th of July Jam, featuring Jimmy Fallon's house band The Roots, John Mayer, and Demi Lovato. Finally, MTV has a block planned featuring superstars explaining what artists on the horizon are "catching their ears" of late. Different folks are in to different things, but if you are feeling like watching a music video on the Fourth of July, you should be able to find something right up your alley.
Other cable channels also have big events planned for the Fourth, including Syfy, which is putting together an epic Twilight Zone marathon. In the meantime, if you're simply looking for some good Fourth of July tunes, you can always head over to YouTube, or check out one of the best songs for the summer, ever, below.
Photo Credit@ Shutterstock/ Mikhail Kolesnikov
Amazing Race & Top Chef superfan with a pinch of Disney fairy dust thrown in. If you've created a rom-com I've probably watched it.
Your Daily Blend of Entertainment News
Thank you for signing up to CinemaBlend. You will receive a verification email shortly.
There was a problem. Please refresh the page and try again.