Mandy Moore Signs On For ABC Sitcom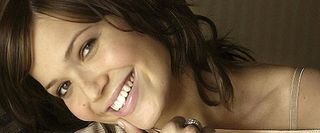 Singer and actress Mandy Moore has spent some time on the small screen in guest roles, but she is now set to make the move to a regular role in a comedy series. Moore has signed on to star in Us and Them, a new sitcom for ABC where she will pay a newlywed dealing with the fun of getting everyone to get along when families are combined by marriage.
According to EW ABC has ordered a put-pilot for the comedy, and Moore is signed on to play the role of Annie, who along with her new husband Ben must navigate the waters of a new marriage and the newly minted families it creates. Shawn Levy of Night at the Museum will direct while Wedding Crashers writer Bob Fischer will handle the script.
Moore has spent some time in front of TV cameras, guest starring on Grey's Anatomy, How I Met Your Mother and Entourage. She's also starred in several movies and continues to make music as well, somehow having survived being fairly low on the radar among early 2000's pop princesses. Perhaps she stayed off the radar since unlike other teen pop stars she didn't go into rehab , get married and divorced, or shave her head.
Although Moore does carry that pop princess stigma, she has managed to earn some cred from me for her hilarious role in Saved, so her comedic skills aren't in question in my books. Still, a regular role in a sitcom is a lot harder to keep fresh and funny; we'll have to see if this former teen queen has grown up enough to carry a series.
Your Daily Blend of Entertainment News