Meet The New Cast For Flowers In The Attic's Next Sequel, If There Be Thorns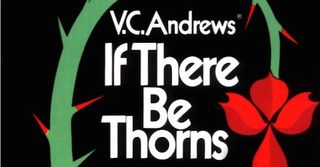 We've known for months now that Lifetime had plans to bring two more Flowers in the Attic sequels to the small screen. Today comes word that If There Be Thorns is officially a go, and once again, a number of roles have been recast. Find out who's playing who and what to expect from the TV movie ahead...
THR got the scoop on the If There Be Thorns TV movie that's in the works and expected to air in 2015. The story will be based on V.C. Andrews' novel (opens in new tab) by the same name, a followup to Petals on the Wind, the book that followed Flowers in the Attic. Lifetime's adaptation of the first book aired in January, and they were quick to follow it up with an adaptation of Petals on the Wind. Just as the sequel recast Kiernan Shipka (Cathy) and Mason Dye (Chris) with Rose McIver and Wyatt Nash respectively, If There Be Throns will see new actors playing the Dollangangers.
THR says Rachael Carpani will play Cathy, while Jason Lewis is set to play Chris. And Mason Cook is lined up to play Cathy's son Bart. There's no mention of who will play Jory, but the description notes that Cathy has two sons, so that presumably means he'll be around.
While the original story centered in a group of siblings forced to live in the upstairs bedroom and attic of a grand mansion while their mother attempted to inherit her father's fortune, Petals focused on the lives of the kids in the years following their escape from the attic. If There Be Thorns is told from the perspectives of Jory and Bart, Cathy's two children. Assuming If There Be Thorns follows the basic model of the book, we might expect to hear an update on the casting status of another character that's not to be mentioned for spoiler's sake. But let's talk about who has been cast for this new movie...
SPOILER ALERT: We won't spoil anything major about the book beyond basic character descriptions. We will be talking fairly specifically about events that transpired in Flowers in the Attic and Petals on the Wind, so if you still haven't read the books or at the very least, seen the movies, consider yourselves warned...
Cathy - Rachael Carpani
Where we've seen her - Rachael Carpani's credits include Lifetime's 2011 drama Against The Wall, a recurring role in The Glades and a starring role in the Australian series' McLeod's Daughters.
Cathy has been played by: Kiernan Shipka, Rose McIvor. (Also Kristy Swanson, if we're going back to the 1987 feature adaptation of Flowers in the Attic)
In the Book: Cathy's about nine years older than she was at the end of Petals on the Wind. She and Chris are happily "married" and living in California with Cathy's two sons, Jory (her son with the late Julian) and Bart (her son with her late step-father Bart Winslow). She's working as a ballet teacher and no one including her kids knows that her husband is her brother. Because the book shifts to the perspectives of Cathy's kids, she's not as big a presence in this story as she was in the first two books, but she undoubtedly has some big scenes.
Sex and the City's Jason Lewis is playing Chris...
Chris - Jason Lewis
Where we've seen him: Hello, Smith! Lewis is likely best known for playing the longterm love interest to one Samantha Jones in Sex and the City. He also appeared in Brothers & Sisters, How I Met Your Mother and House.
Chris has been played by: Mason Dye, Wyatt Nash.
In the Book: By this point, Chris is practicing medicine and happily "married" to his sister Cathy. He's also the adoptive father to Jory and Bart, who believe Chris is the brother of Paul Sheffield, the man who took Chris, Cathy and Carrie in after they escaped the attic. In Petals on the Wind, Cathy had a love affair with Paul and though it produced no children, she leads her son Bart to believe that Paul is his biological father (because how do you tell a kid that his father is also his step-grandfather?). So Bart and Jory think Chris is Bart's biological uncle, when really he's his actual uncle.
But this is actually Bart and Jory's story. Find out about those characters after the jump...
Bart - Mason Cook
Where we've seen him: Mason Cook plays Aiden Odum in TNT's Legends. He was also in Spy Kids: All the Time in the World in 4D.
In the Book: As mentioned in Chris's description, Bart is Cathy's son with her mother's second husband, Bart Winslow. Only he thinks he's the son of Paul Sheffield. No idea if the TV movie will alter that situation since Paul has basically no presence in Lifetime's Petals on the Wind. Maybe Bart will be made to think Chris is his biological father. That would be simpler. The book has Bart spending a lot of time with the new neighbors, and eventually growing more and more curious about his family's history.
Jory - Not cast (yet).
There's no mention of who will play Jory, but we're assuming he'll be in the adaptation. In the book, Jory is a few years older than Bart, and at fourteen, headed into adolescence. Jory is the biological son of Julian, Cathy's first husband, who was also a dancer. Jory follows in his parents' footsteps as a ballet dancer. Jory's perspective in the story is obviously a bit more mature than his kid brother. But he shares Bart's curiosity about his family's history.
Kelly joined CinemaBlend as a freelance TV news writer in 2006 and went on to serve as the site's TV Editor before moving over to other roles on the site. At present, she's an Assistant Managing Editor who spends much of her time brainstorming and editing feature content on the site.
Your Daily Blend of Entertainment News
Thank you for signing up to CinemaBlend. You will receive a verification email shortly.
There was a problem. Please refresh the page and try again.