NBC May Shift Constantine To Another Network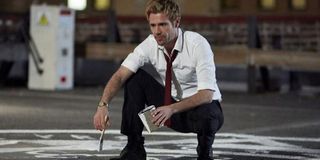 More and more dramas have been getting early renewals from the networks. This week, NBC renewed a slew of its original programs, but unfortunately for fans of Constantine, the freshman drama was missing from the list. Now, Constantine is being rumored for a network move to the NBC Universal run channel, Syfy.
Despite the fact that Constantine shut down production after fulfilling its 13-episode order with NBC and was not picked up for additional episodes, reports have indicated that NBC is a fan of the niche drama, and the show might still live on for a second season. After all, it's doing better on Friday nights than Dracula did last year. The numbers are OK enough that the show could potentially still be picked up for a second season on NBC. Alternatively, Cinelinx reports that NBC heads have been talking about moving the series to Syfy or another NBC Universal-owned network.
Currently, there are no specific plans to move Constantine to Syfy, but it would solve a lot of NBC's—and Constantine's—problems. For instance, even though Friday ratings are expected to be lower than other primetime days, Constantine hasn't done enough to keep up with Grimm in the numbers on Friday nights. And while the show hasn't done so poorly it has warranted immediate cancelation, fans have known for a while that the future of the series is not so hot. On Constantine's end, the show has had to put up with network battles, including showing John Constantine as a smoker. Here's executive producer Daniel Cerone's recent Tweet on the subject.
Obviously, NBC has worked with the Constantine crew to make the series a little closer to the Hellblazer comics the show is based on, but there is still definite room for improvement, and moving the show to a cable network could help the show be more of the badass, dark endeavor that Constantine should be. In fact, if the show moves, reports indicate that NBC Universal might even go so far as to rebrand the series and call it Hellblazer, which would appeal even more to comic fans. Cable also allows shows more leniency in terms of what can or cannot be shown, so the series could potentially be darker, gorier, and feature more smoking.
If NBC can find a way to keep Constantine on the air, it should. The show has a fanbase that is active on social media and has started the #SaveConstantine campaign, similar to the Longmire campaign that landed the show on Netflix a few months ago. Even William Shatner has gotten into the game.
In short, Constantine may not be dead in the water, yet. And as long as there is a little hope for the series, we'll keep our ear to the ground to bring you any news.
Amazing Race & Top Chef superfan with a pinch of Disney fairy dust thrown in. If you've created a rom-com I've probably watched it.