NYCC 2011 Video Interview: Nikita's Shane West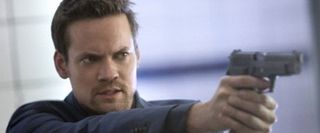 Shane West is no stranger to TV. He starred as Eli Sammler in Once and Again when he was just 20-years-old and then as Dr. Ray Barnett on ER for a number of years. But in the case of Nikita, not only had he matured to the point that he's communicating with the show's writers, but he also had the privilege of developing a family dynamic with the cast and crew from day one.
WARNING: Season One Spoilers Ahead
West boarded Nikita right from the start as Michael, one of the higher-ups at Division and the man in charge of the new recruits at the secret government-funded agency, one of which is Alex (Lyndsy Fonseca). Little does Michael know, Alex is actually in Division on behalf of rogue agent Nikita (Maggie Q) who will stop at nothing to take down the corrupt organization. Twenty-two episodes later, Alex loses her trust in her mentor and switches sides, while Michael realizes he needs to do so as well, teaming up with Nikita.
In honor of Nikita's sophomore season, West hit New York Comic Con to talk all about his experience working on the series thus far as well as his excitement for upcoming episodes, including meeting Cassandra (Helena Mattsson) in the flesh. Check it all out in the video below.
Staff Writer for CinemaBlend.
Your Daily Blend of Entertainment News
Thank you for signing up to CinemaBlend. You will receive a verification email shortly.
There was a problem. Please refresh the page and try again.