The Netflix Trick That Will Save You Time And Trouble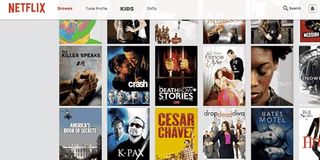 Netflix is continually finding ways to make home entertainment more user friendly. Not only can we binge watch with the service, we can stream on multiple devices and allow our teens to log in through a separate account so that there movies don't get cluttered in with our TV bingeing. Now, a developer is making our Netflix lives even easier with a new bookmarklet that is cheekily called "Netflix God Mode."
If you've ever spent time scouring through a lengthy and impossible scrollable list of titles on your computer, developer Renan Cakirerk has made everything a whole lot simpler. And the bookmarklet itself is fairly easy to use. First, head to the bookmarklet page. Once there, simply drag the green button to your bookmarks bar, open Netflix and click on "God Mode" bookmarklet to view all movies at once. It helps if you have your bookmarks toolbar visible on your browser. Once you click on the "Netflix God Mode" button, the home page will realign. Suddenly, you'll be able to scroll down and search titles by category. It's easy, it's effective and it's overall a glorious way to experience Netflix.
Unfortunately, it's only available if you are using Netflix on your computer browser. But for desktop user the process is a whole lot nicer than it used to be. Instead of an extremely frustrating horizontal slider viewing system, the app makes it easier to visualize what the streaming service has available to watch.
Netflix has its pros and cons, a pro being the cheap cost and easy accessibility of the service, while a big con is often losing programs while people are in the middle of bingewatching said programs. However, anything the subscription streaming service can do to make our lives easier is fine in our book. Besides, that's the best thing about an add-on like this. It gives everyone the chance to browse in a completely new way, and if you don't like it, you can simply bail on "God Mode" and go back to the standard Netflix way you've been using for years. It's a win on every single front.
As Netflix generates more and more subscribers and shells out more and more for original programming, the true test is going to be whether or not the service raises the price in the future. If it does, all of these little hacks and minor problems are going to be meaningless. At that point, it's going to be up to users whether they want to make Netflix a real expense with a price they actually have to budget for each month or whether it was merely fun to have the service when it was the price of a takeout order.
In the meantime, you can see what Netflix is adding in April here.
Reality TV fan with a pinch of Disney fairy dust thrown in. Theme park junkie. If you've created a rom-com I've probably watched it.
Your Daily Blend of Entertainment News
Thank you for signing up to CinemaBlend. You will receive a verification email shortly.
There was a problem. Please refresh the page and try again.