The Office Preview: Season 8, Episode 15 - A Pyramid And A Possible Poisoning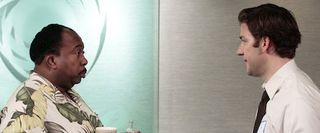 Last week's episode of The Office ended with a couple of interesting twists. The tag, added to the higher than usual amount of great laughs in the past few episodes have me feeling hopeful that The Office is finding its footing once again. We have some clips from tomorrow night's episode for you to check out. They feature the return of more than one familiar face...
When last Thursday's episode ended, a group of Dunder Mifflin Scranton's staff were headed down to Florida for a work-related trip. Pam's maternity-leave replacement is apparently sticking around long enough to take the trip (and based on the soap-opera-esque phone call she made during last week's tag, make a move on Jim), and Erin seems to be setting her trip to one-way. I wondered if we'd actually get to see the Florida trip, or if this Thursday night's episode would be missing a few characters, or else, jumped forward a few weeks as Jim, Erin, Dwight and whoever else went return. But from the looks of these clips and photos, we're going to get to see what's going on in Florida.
Remember Todd Packer? I'm pretty sure the last time we saw Michael Scott's old sales pal, he was headed to Florida thinking he got a corporate job. Well... he sort of does now. Either that, or he's lurking around the corporate office because he's in these videos. Also present is Nellie Bertram, played by Catherine Tate. She was among the people who applied for Michael Scott's job.
Jim's reaction to Packer's appearance is great, and Nellie's introduction is funny...
Has Jim poisoned Dwight? In all likelihood, he's tricked Dwight into somehow thinking he's poisoned. Florida fun!
And as you'll see in these photos, that ridiculous Dunder Mifflin pyramid tablet is back... which explains the other pyramid.
The Office airs Thursdays at 9:00 p.m. ET on NBC.?