One Agents Of S.H.I.E.L.D. Star Is Really Mad About The Lack Of Movie Crossovers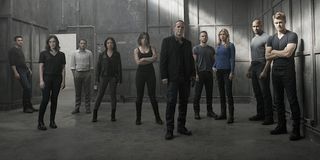 If you consume both the Marvel Cinematic Universe's movies and television shows, you've probably noticed that the relationship between the two is one-sided. While much of what happens in the TV shows is influenced by the major events on the big screen, the movies have yet to directly refer to what their small screen counterparts are up to. In Agents of S.H.I.E.L.D.'s case, that really undercuts its tagline, "It's All Connected," and star Chloe Bennet, who plays Daisy Johnson, is not pleased with the lack of acknowledgement towards the MCU's TV offerings.
This past weekend at the Wizard World Des Moines Comic Con (via Bleeding Cool), an audience member at Bennett's panel asked her why the Avengers haven't gotten involved with the show if Hive is such a threat. Here was her answer, along with her desire to see more crossovers with the MCU movies.
As far as getting the movies to refer back to events on the TV shows, that can be complicated because the former shoot so far ahead of the latter. For instance, Captain America: Civil War began filming in April 2015, which was two months before Agents of S.H.I.E.L.D. Season 3 was starting to be written. So there was no way that the third Captain America installment could have referenced Hive. However, that still doesn't explain why the Inhumans weren't at least mentioned in the movie, given that they were introduced in Agents of S.H.I.E.L.D. Season 2, or why the Avengers haven't learned yet that Phil Coulson is still alive. Now that the Inhumans movie has been delayed, the best chance of the TV side of things getting directly acknowledged in the movies is with Avengers: Infinity War, and even that's not looking good.
As for characters from the movies appearing on Agents of S.H.I.E.L.D., that's been a more common occurrence. Jaimie Alexander played Lady Sif in a couple episode, Cobie Smulders has reprised Maria Hill on and off and even Samuel L. Jackson popped in as Nick Fury twice during Season 1. Still, there are definitely times when the lack of major movie characters can be felt in the midst of these TV adventures. While we don't expect the show to ever feature Hulk "smashing" or Iron Man firing his repulsor blasts, maybe the movie and the TV divisions (which are managed separately, I should add), can work something out so that one of the Avengers to show up for an Agents of S.H.I.E.L.D. episode. Black Widow? Hawkeye? Falcon? Let's get more hero representation!
The Agents of S.H.I.E.L.D. two-part Season 3 finale airs tonight at 9 p.m. EST on ABC.
Your Daily Blend of Entertainment News
Connoisseur of Marvel, DC, Star Wars, John Wick, MonsterVerse and Doctor Who lore. He's aware he looks like Harry Potter and Clark Kent.
Your Daily Blend of Entertainment News
Thank you for signing up to CinemaBlend. You will receive a verification email shortly.
There was a problem. Please refresh the page and try again.