Parks And Recreation Reaction - The Fourth Floor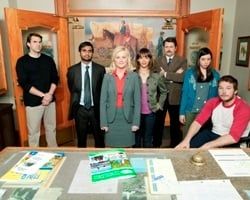 Misery loves comedy. Or vice versa. Shows start leaping when we identify with the characters rather than just laughing at them. Tonight was one of the best Parks and Recreation episodes yet (similar to Ron's hernia episode) and I've realized why: comedies are usually at their best when characters are most vulnerable.
Tom Haverford's been one of my favorite television characters since last year's Parks series premiere. I love his combination of frat boy hi-jinx, rudimentary work ethic and slacker charm. If anything, I thought he was underutilized in many episodes. So it's a bit ironic that the show was at its funniest when Tom was at his lowest. Divorcing Wendy obviously left him in a place he doesn't know too well: being sad.
What we got was a Leslie-led group cheer-up effort that had me laughing most of the half hour. It brought out just how little Leslie knows about: A. Tom and B. Men in general. It also gave us a steady dose of Ron Swanson (always a plus), his affinity for strip club-provided breakfast buffets("Hello beautiful") and bottom feeding tendencies. And then there was Tom, just being sad. Tom wasn't funny at all really (save being carried by Ron into his ex-wife's house) but he didn't have to be.
On the flip side, Andy is almost always vulnerable even though the dope never knows it. Andy (played brilliantly, and I can't really stress this enough, by Chris Pratt) has been constantly, and forever errantly, scheming to win back Anne's heart. I never think he is going to actually pull it off, but tonight had me wondering for just a second when he seemed to have a decent hustling strategy lined up against Mark. Even when that failed, I thought he had chance when Mark scratched on the eight. But I loved how Anne instantly dismissed the notions that she could be won in a game of pool and that Andy ever stood a chance to get back together with her in the first place.
One thing this season has made me question is how such a ridiculous guy as Andy and a relatively put together and somewhat severe woman like Anne ever got together. I almost don't care though, because his plans for winning her back are funnier than when they were together. I am almost sad to think he won't be trying anymore after losing to Mark in his own hustle.
Parks and Recreation was fantastic tonight because it just seemed like a group of ridiculous work friends trying to cheer up a guy they barely know. The characters were real and vulnerable and hilarious.
Highlights:
- Anne seems like the kind of person that hates splitting the bill equally and actually enjoys ordering less just so she has a gripe when the check actually comes.
- I am sending my wife a Singing Horse Telegram tomorrow morning.
- The opening scene of the 4th floor of town hall was a masterpiece: equal parts democracy and horror show.
- I mentioned Ron's bottom-feeding tendencies, but his wanting to ask Wendy out was the only thing of the episode that rang false for me. (besides Jurassic Fork) Up until this point, Ron has been a rock of loyalty. I just can't see him doing this kind of thing.
Your Daily Blend of Entertainment News
Doug began writing for CinemaBlend back when Terminator: The Sarah Connor Chronicles actually existed. Since then he's been writing This Rotten Week, predicting RottenTomatoes scores for movies you don't even remember for the better part of a decade. He can be found re-watching The Office for the infinity time.