Parks And Recreation Season 6: A Look Back And A Look Ahead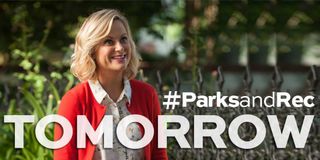 This week Parks and Recreation is back but not in Pawnee, the NBC sitcom is starting Season 6 across the pond for a special one-hour premiere in "London." Before the 'business trip' begins tomorrow night, now is a good time to refresh our memories about where the series left audiences at the end of last year as well as make a few projections for where the comedy might be headed this season. The fifth concluded with a rallying call (from the dumbest residents) to recall Leslie from office but the citizens of the small Indiana town better watch out for the 'Attack of the Knope!'
Okay. So, that might not have been the most complete recap of the previous year on Parks and Rec but it does build to one of the major cliff-hangers as well as prepare fans for the kind of Leslie (Amy 'should have won the Emmy' Poehler) we might see in the sixth season. It's not going to be easy for Councilwoman Knope to keep her seat on the Pawnee Government (well, it could be), she's going to need some of that fire to fight off Paunch Burger and all the citizen-dummys who didn't answer yes when asked "Are You Better Off?" And the 'Recall Leslie Knope' campaign was not the only big development at the end of Season 5 as Bert Macklin's discovery forced him (out of retirement and) to try and figure out 'Who's Pregnant?'
Oh yeah, Aubrey Plaza's April's also off to go to art school in New York! Wait. That was Pam on The Office. April is actually headed off to veterinary school in Bloomington to fulfill her lifelong dreams of being an artist dammit, dreams of working with animals and thankfully Andy (Chris Pratt) is every bit as loving and supportive as Jim so the couple should be just fine. Especially since Andy's all buff this year but more on that later, let's get back to Bert Macklin's case and the big news that Ron Swanson (Nick Offerman) is going to be a dad! If it's a boy, that kid's going to come out moustachioed. It also means that Lucy Lawless will be back on the show as Diane for more than a couple of episodes. I wonder how all the Tammys (Megan Mullally, Patricia Clarkson and Paula Pell) will react? I hope we get to see it. For a little more on that, here's Mr. Offerman talking Season 6...
If you want to hear some more about the scope of the sixth season of Parks and Rec from cast-members, here are similar videos featuring Amy Poehler and Adam Scott. Before touching on the upcoming year's big name guest stars or tomorrow night overseas premiere, it's time to talk about the most depressing development of the off-season: Rashida Jones and Rob Lowe are leaving. I know. Literally the worst. Ann! I'll miss you most. Chris, you had your moments. Will the show be okay without them? I think it will be just fine and besides, this frees Jones up to pursue her own projects. That means there will be a few best friend holes to fill and apparently April might be Leslie's new BFF but who will be Ben's? Aziz Ansari's Tom?
Even though those two big stars are leaving, Pawnee is full of great supporting (and smaller) characters to help fill the void and the Season 6 guests are an embarrassment of riches. Orphan Black's Tatiana Maslany will eventually play a love interest for Tom meaning that he somehow finds the courage to stand up to his horrible girlfriend, Jenny Slate's Mona-Lisa Saperstein. Slate's casting as the sister of Ben Schwartz's Jean-Ralphio was spot on and I'm excited to meet the family's patriarch, especially since the show hired none other than Henry Winkler as Mr. Saperstein. Also coming in Season 6 is a new development in the Pawnee-Eagleton rivalry with the show introducing more of the snooty-town's government officials. Yep, there will be doppelgängers. Leslie's counterpart (this time, cause we'll never forget Parker Posey's Lindsay Carlisle Shay) will be played by Kristen Bell which, if you've seen Party Down, couldn't be more perfect. Joining Bell as the the rest of the Parks and Rec team are Billy On The Street Eichner (Eagleton's Donna), Sam Elliott (Eagleton's Ron), June Diane Raphael (Eagleton's April) and the Eagleton Tom is a still a secret because the Michael Schur doesn't want to spoil the gag. My guess is a very stylish robot. I have no idea.
Making an appearance during the one-hour season premiere in England are Heidi Klum and Peter Serafinowicz and they both also made videos talking about their turns on Parks and Rec for "London" (Parts 1 and 2). Klum plays the woman who beats out Leslie for the Women in Government award and Serafanowicz guests as a possible catch for Ben's charity initiative at Sweetums as well as a kindred spirit to Andy. That should be fun. Speaking of Andy and "London," Chris Pratt is largely the reason why the NBC comedy filmed a few episodes in the U.K. because the star landed a leading role in Marvel's Guardians of the Galaxy and this way he was able to do both. The cast, including Pratt, Amy Poehler, Adam Scott and Nick Offerman, also made videos discussing what it was like to shoot the series in another country.
Oh, and if you want to know why Andy is so fit (not Pratt, GotG is why he looks like this), here's a clip where he explains it to Ben. Plus, we get a look at Serafinowicz' Lord Covington.
Parks and Recreation returns with the special one-hour sixth season premiere, "London" (Parts 1 and 2), on Thursday at 8:00 p.m. ET on NBC. Created by Greg Daniels and Michael Schur, the series stars Amy Poehler, Adam Scott, Rashida Jones, Aziz Ansari, Nick Offerman, Aubrey Plaza, Chris Pratt and Rob Lowe.
Your Daily Blend of Entertainment News
Thank you for signing up to CinemaBlend. You will receive a verification email shortly.
There was a problem. Please refresh the page and try again.