Parks And Recreation Watch: Season 6, Episode 17 - Galentine's Day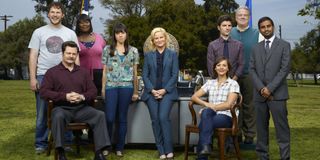 Parks & Rec celebrates another Galentine's Day with a redundant, but funny episode that matches up the cast in ideal fashion.
Leslie and Anne's long distance relationship is having a hard time maintaining as well as Leslie would like, so she decides to have a covert freeing off under the guise of Galentine's Day. The show has taken pains to establish Leslie's relationship with April and Donna so it seemed a bit old hat to get into this all again. Luckily, they put the focus mostly on some of the familiar faces in Leslie's life and it was a lot of fun to watch her take pot shots at everyone. I also appreciated the right turn to Anne giving birth, and it was nice to see her and Leslie argue over Friday Night Lights. Team Riggins by the way. Hopefully this is the last of the friend building that is completely unnecessary.
Tom, Ben and Larry dealing with the tent king of southern Indiana was a bit hit or miss, but I do enjoy me some Rob Huebel. Watching Tom and Ben try to circumvent the tent king was a pretty simple story, but the little beats made it work. Tom getting all worked up over his hat was nice, but Larry and Ben bonding was the sweet touch of the episode. It also pays off wonderfully In the credits sequence as Ben gets fed up and Larry proves why he is made of so often. Poor Larry.
The last storyline was my favorite, as we got to see Andy and Ron in a father/son dynamic that works so well with these two guys. The manic energy of Andy paired with Ron's Swanson nature is always comic gold with the littlest of effort and that is why their interactions last week was so disappointing. Still, lots of great lines and gags with these two this week, with Andy thinking he solved the picture differences being one of the best Andy moments, period.
A very solid episode this week and that is appealing with a new season of the show being announced. I've gotten on the show for having a hard time finding its footing this season and I'm intrigued by where they are going to leave this season. They can't send Leslie off quite yet, but hopefully they can get her and the show grounded again with a bit stronger focus. Regardless, fun episode this week.
Random Ramblings:
"Awe, babe, you've gone crazy."
"There is only Doc McStuffins."
"I just faced you suckers."
"As long as nobody knows that."
"You sound like a tampon commercial."
"5 second rule."
"Those are two completely different pictures."
"She was the most beautiful woman on her oil rig."
"Oh right, cause calories."
Team Riggins!
"Also, I'm the zodiac killer."
Poor Larry.
Your Daily Blend of Entertainment News