Penny Dreadful Has Been Renewed For Season 3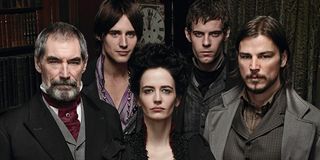 It appears that fans of Showtime's grim, Gothic drama Penny Dreadful will not have to part with the series with its Season 2 finale just around the corner. The network has announced that the show has been renewed, ensuring that your television future will see no dearth of deadly demonic destruction.
According to Showtime's official announcement, Penny Dreadful has been given a nine-episode order for Season 3, which will air on a yet-to-be-specified date in 2016. By all indications, the cast will soon return to the regular shooting location in Dublin, Ireland to commence the series' stylistic brand of blatant butchery mixed with bizarre bouts of ribaldry.
The move is clearly good news for fans of the series' deep, quickly evolving mythology amalgamated from Victorian era fiction as created by Gladiator and Skyfall screenwriter John Logan. Showcasing an impressive cast such as Eva Green, Josh Hartnett and Timothy Dalton, Penny Dreadful's return especially serves as a relief, given the presumably loose grip that a television series might have on such talent who are traditionally geared towards film. Possibly to that point, the nine-episode order for Season 3 will be a one episode downgrade from the current season's run of ten.
Interestingly enough, the announcement of the renewal comes upon the news that this past Sunday's airing of Season 2's seventh episode, "Little Scorpion," yielded a series low with a 0.19 rating in the coveted 18-49 demographic, which is notably lower than its average of 0.23. Overall, the ratings for Season 2 have been inconsistent, leading to a bit of temporary apprehension from the show's devoted fanbase. However, Showtime is clearly in the midst of diversifying their portfolio of standout original programming; especially on the back of the abruptly announced upcoming launch of their standalone streaming service. This mandate may have been the deciding factor in their decision to maintain this presumably costly and star-studded production.
From the perspective of the storyline, it has become more than apparent in Season 2 that the show has moved past showing off the bells and whistles of its gimmicky premise that has corralled renditions of iconic literary horror characters. Season 2 has seen the show shaping itself a bit more methodically as an introspective character study. Centering mostly on Eva Green's perpetually punished Vanessa Ives, the series seems to have shifted most of its focus to the premise of her being the object of a mysterious, morbid fixation from a dangerous Satanic cult of witches headed by Helen McCrory's Madame Kali. Thus, the pacing of Season 2 had been a bit disproportionate compared to Season 1, which may explain the sporadic dips and upticks in the ratings this year.
However, this approach has also allowed the series to greatly expand the breadth of its mythology. With Season 3 firmly on the horizon, perhaps this current season's slower, stoic focus might provide the show with a sturdy supply of expository middle-act gravitas to work towards a devastatingly rich denouement in Season 3 that won't feel forced or rushed. Of course, Season 2 still has three episodes to air, so we might be in store for a more immediately powerful payoff sooner than we might think.
You can catch the remaining episodes of Penny Dreadful Season 2 on Showtime Sundays at 10 p.m. EST as it rounds the way to what will surely be a fantastic finale on July 5.
Your Daily Blend of Entertainment News