Picturing Glee Without Rachel, Finn, And Kurt: Why It May Be For The Best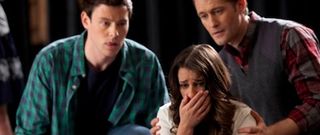 High school will apparently not last forever for the characters in Glee. Word is, some of the main cast will be exiting the show after the series' third season. Fans of Lea Michele, Cory Monteith and Chris Colfer may have to look for them elsewhere because come Fall 2012, they won't be found at William McKinley High.
According to the Hollywood Reporter, series co-creator Ryan Murphy says that Michele, Monteith and Colfer will not be back for Season 4. Season 3 is set to premiere this fall and will wrap up the following spring with Rachel, Finn and Kurt among those who graduate. Murphy stated that planning for their futures will be part of the theme for Season 3. He also said:
While I have a hard time picturing Glee without these three characters, I think this a bold move on Murphy's part and one that I would love to see pay off. The other options would be to extend high school (Beverly Hills, 90210 did it by giving Brandon, Brenda et al two junior years and never acknowledging it), or to shift the show's theme to glee-life beyond high school.
Let's face it; the "college years" of most teen drama series are often the weakest. Trying to keep the structure of the show intact often means bending reality to a ridiculous level for the sake of finding a way to keep all of the characters directly in each other's lives. Assuming they don't go away to school and all end up at the same college, what are the odds that they have classes together or even pass each other in the hallway. This is assuming all or any of them even go to college to begin with.
Of the teen dramas that I've seen age up to the college phase, Buffy the Vampire Slayer managed to do it the best. Not only did the series acknowledge the distance created by a bigger campus and differing majors/life-goals, but it used those things to develop the story and push the characters into more adult scenarios and more interesting and complex relationships with one another. Other shows weren't nearly as successful, stumbling through the college years, becoming a shadow of what they once were (Beverly Hills, 90210, Veronica Mars).
It took a full season for Buffy's new structure to fully develop beyond high school, but the series managed to cross the bridge, and that was with Cordelia leaving, Xander not even attending college, and Giles living as a gentleman of leisure. Somehow, the show still worked. Credit good writing and great character development over the first three seasons, which created a foundation on which the show was able to transform itself without collapsing under its own weight. It was an impressive feat and I'm not sure Glee's the type of show that would be able to do it without veering too far away from the original premise (socially-challenged kids bonding through music despite their differences).
If Glee were to take the show on the road, with Rachel, Finn, Kurt and some of the others all deciding to try to make it in the big city, as we know some of them may very well do, the series would become a completely different show. With that said, I'm wondering if Murphy or anyone else is dreaming up a spinoff series for the grown Glee characters. (Glee Takes Manhattan?) It worked for Buffy. (See: Angel)
As for those who are left behind, I think the show's chances at longevity will rely on fresh stories, and what better way to do that than to bring in new singing sensations each season as the older kids grow up and graduate?
Your Daily Blend of Entertainment News
Assistant Managing Editor
Kelly joined CinemaBlend as a freelance TV news writer in 2006 and went on to serve as the site's TV Editor before moving over to other roles on the site. At present, she's an Assistant Managing Editor who spends much of her time brainstorming and editing feature content on the site.