Portlandia Returns To IFC For Season 2 In January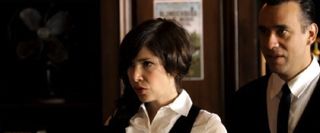 If, like me, you've been completely lost without IFC's Portlandia to show you how to be the trendy hipster you've always aspired to be, there's good news. IFC announced the premiere date for Season 2 of the comedy series, along with a list of guest-stars who are expected to appear. ?
Portlandia is a comedy series starring Fred Armisen and Carrie Brownstein, who play various random Portland(ia) residents featured in humorous situations, often involving the eccentric culture of Portland, Oregon. I'd like to say that I read about the second season premiere in some little newspaper you've probably never heard of, but IFC actually posted the information by press release, which sort of takes the fun out of it, by Portlandia standards.
Portlandia Season 2 premieres Monday, January 9th at 10:00 p.m. ET/PT on IFC. (Update: IFC's new premiere date for S2 of Portlandia is Friday, January 6 at 10pm ET/PT)
Fans can expect guest appearances by Penny marshall, Jack McBrayer, Tim Robbins, Andy Samberg, Amber Tamblyn, and Kristen Wiig. Mary Lynn Rajskub will also guest-star, and Kyle MacLachlan is set to return to play the role of Portlandia's mayor.
Here's one of my favorite bits from Season 1:
Your Daily Blend of Entertainment News
Thank you for signing up to CinemaBlend. You will receive a verification email shortly.
There was a problem. Please refresh the page and try again.