Raven-Symone Is Returning To Disney Channel, Get The Details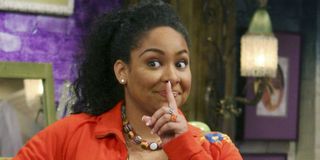 Unfortunately, or fortunately, which ever way you look at it, most Disney stars will always be recognized for their childhood roles. One prime example of this is Raven-Symoné. There's no getting away from her role as Raven Baxter on That's So Raven. Maybe it's because the show used her real name for the character she portrayed (then again, so did Miley Cyrus' Disney sitcom and she seems beyond her Disney days), but whatever the case may be, we can't help seeing Raven-Symoné and thinking Disney Channel. Well, the 29-year-old The View host is heading back to her roots, as she takes a guest-starring role on Disney channel's K.C. Undercover.
Earlier this year, Raven-Symoné posted a photo from the set of the Disney Channel sitcom K.C. Undercover starring Zendaya, announcing that the ex-Disney star would be returning to her former network for a guest starring spot. According to Variety, the news has now been confirmed, as The Cheetah Girls actress will be featured on a one-hour special episode of the comedy on September 7th.
Raven-Symoné will be playing a former spy and computer engineering expert named Simone Deveraux that Zendaya's K.C. Cooper enlists help from when her family's robot, Judy runs away and is then captured by enemy agents. For those of you who have never heard of the currently popular children's series, it follows high school student K.C. Cooper who becomes a spy in a secret government agency called The Organization. As both a math whiz and black belt in karate, the teenage spy along with her spy parents, go on a number of adventures all while balancing a normal existence.
Unfortunately, Raven-Symoné will be joining the special as a new character (we secretly wish she could use her psychic powers to help K.C.'s mission). Overall, you can expect that fun-loving quirky humor that Raven Baxter portrayed so well, as well as the newer Disney Channel star.
After That's So Raven came to an end back in 2007, Raven-Symoné went on to guest star in a few different TV series, the last time on the Disney Channel was in a 2010 episode of Sonny WIth A Chance. Other than that, her most regular appearances have been a starring role in ABC Family's State of Georgia, which only lasted one season, and currently as a guest host on The View. You can see her in K.C. Undercover on Monday Sept. 7 at 7 p.m. ET/PT on Disney Channel.
Your Daily Blend of Entertainment News
Your Daily Blend of Entertainment News
Thank you for signing up to CinemaBlend. You will receive a verification email shortly.
There was a problem. Please refresh the page and try again.