Scandal Adds Portia de Rossi For A 'Top Secret' Arc In Season 4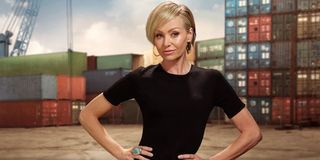 Portia de Rossi is headed to Scandal! The Arrested Development star has signed on for a "top secret arc" on the ABC series, as confirmed by Ellen DeGeneres today. It looks like will be De Rossi's first TV role since reprising her character, Lindsay Funke for Netflix's revival or Arrested Development.
EW caught Ellen DeGeneres' Tweet, which reveals that de Rossi will be playing the mentioned top secret arc on Scandal, which is headed into its fourth season this fall…
We can only speculate as to who de Rossi might be playing and how her character will factor in to the season, but EW could very well be on the right track in theorizing that the mention of "top secret" has something to do with B-613 and/or Olivia's father. Then again, there are a lot of things that are top secret on Scandal, so it just as easily could be linked to something else at the White House, or perhaps something that Olivia and/or her Gladiators will be dealing with. That is, assuming Olivia will be back to managing scandals at some point in Season 4. When Season 3 left off, Olivia was leaving it all behind and flying off to a less chaotic life. But we'll see how long that lasts.
As mentioned, Portia de Rossi recently returned to her role as Lindsay on Arrested Development. Prior to that, she played the role of Lily Munster in the Mockingbird Lane pilot, which unfortunately didn't go to series, but did see the light of day when NBC aired the lone episode as a Halloween special. De Rossi's credits also include Better off Ted, Nip/Tuck and Ally McBeal.
Portia de Rossi's proven to be great with comedy, but it's probably fair to assume that her dramatic experience will be of more use in whatever she does on Scandal, as the series isn't typically known for laughs. Then again, who knows? But it sounds like she'll be around for at least a couple of episodes, which is a major plus and one more reason to look forward to Scandal's return.
Your Daily Blend of Entertainment News
Thank you for signing up to CinemaBlend. You will receive a verification email shortly.
There was a problem. Please refresh the page and try again.