Sharknado 4's Subtitle Is An A+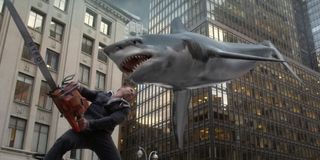 The Sharknado franchise – which, yes, is actually still a thing – would never have gained a cult following if not for the name. Sure, the appeal of the Syfy movies is arguably the action, but it's that titular promise of tornadoes full of sharks that piques the curiosity. The franchise has already produced three Sharknado films, and we've known for a while that a fourth was on the way. Syfy has now released the sequel's subtitle, and it couldn't be any better. This summer, we'll be able to tune in to Sharknado: The 4th Awakens.
Much like everything else about the franchise, the Sharknado: The 4th Awakens title can definitely qualify as "so bad it's good." It even manages to be better than the previous two Sharknado sequels' names. Sharknado 2: The Second One in 2014 and Sharknado 3: Oh Hell No! in 2015 can be remembered fondly, but there will likely be no beating The 4th Awakens. If there was one thing missing from Sharknado since the original film's premiere in 2013, it's Star Wars.
The 4th Awakens doesn't premiere until July 31, so we still have quite a wait until we get to see latest edition of the guilty pleasure franchise. Luckily, Syfy has released some details about what to expect along with the A+ subtitle. The fourth movie will open on a society that has gone five years without any sharknadoes, which is well-deserved after the destruction to the East Coast in Oh Hell No! Fin and his family have not yet looked into somehow moving permanently into a space station without either sharks or tornadoes, but those pesky whirlwinds of ferocious fish will be whipped their way in entirely new and horrifyingly awesome ways.
Ian Ziering will be back as Fin, and Tara Reid will return in some manner. David Hasselhoff and Ryan Newman will reprise their roles as Gil Shepard and Claudia Shepard from Oh Hell No! as well. The rest of the cast is still being added to, but we can definitely look forward to Gary Busey as April's dad and Cheryl Tiegs as Fin's mom.
Sharknado has managed to make it to four movies thanks to a major presence on social media from the very beginning. Celebrities were tweeting and the title was trending worldwide when the original first aired. The estimated Twitter impressions for Sharknado 2 were over a billion, and Sharknado 3 delivered such major WTF moments that many of us are still talking. With a name like Sharknado: The 4th Awakens, there can be no doubt that Syfy will have another social media hit. Honestly, I already kind of want to start tweeting about what Emo Kylo Ren would do in the event of a sharknado.
Plus, how could you possibly not be excited about a TV movie that boasts one of the most hysterical and brilliant social media fan participation events in history. For the specifics, click over to the next page...
July 31 feels like an awfully long way away now that we know the full title for the next movie, but at least the first three are available for Netflix subscribers to stream as many times as possible in preparation for The 4th Awakens on Syfy.
Resident of One Chicago, Bachelor Nation, and Cleveland. Has opinions about crossovers, Star Wars, and superheroes. Will not time travel.
Your Daily Blend of Entertainment News
Thank you for signing up to CinemaBlend. You will receive a verification email shortly.
There was a problem. Please refresh the page and try again.