First Sharknado 3 Trailer Is The Perfect Amount Of Insanity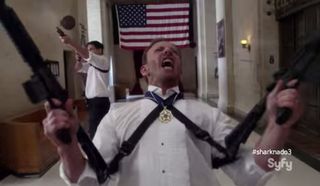 Oh, Sharknado, you're a thing that exists in the world. The super-schlock franchise that somehow captured the hearts and minds of America is returning to Syfy next month for the third installment—yes, there are now three Sharknado movies if you missed that. The latest chapter in the saga just dropped a quick new teaser trailer for Sharknado 3: Oh Hell No. Watch it below at your own peril.
Back in 2013, Syfy unleashed what looked like another of their intentionally campy, pseudo-nature monster flicks the network had become known for. Little did they know the little picture from low-budget film factory The Asylum, fronted by a washed up star from Beverly Hills 90210, and featuring a cyclone that spews man-eating sharks all over Los Angeles, was about to become a cultural phenomenon.
As the first became a massive hit, the cleverly titled Sharknado 2: The Second One was commissioned, once again to star Ian Ziering and Tara Reid. This time they moved the action to New York and filled the scenes with celebrity cameos, including, but not limited to, Kelly Ripa, Wil Wheaton, Kelly Osbourne, Mark McGrath, and countless others.
This all leads us to the mayhem you just witnessed above, and Sharknado is about to join the ranks of the all-time greatest movie trilogies, like The Lord of the Rings, Star Wars, and The Godfather. Like its predecessor, Oh Hell No features a laundry list of famous faces who lined up for a chance to be eaten by an airborne shark. David Hasselhoff shows up, wrestler Chris Jericho will make an appearance, and billionaire Mark Cuban even plays the President of the United States (Ann Coulter is his VP). As you can see from this trailer, which features President Cuban running down the White House hallways with Ian Ziering, screaming and firing off automatic weapons, he's not some stuffed shirt politician, oh no, he's certainly a man of action.
And just in case the movie isn't enough to sate your appetite, there is an Archie/Sharknado crossover comic that is scheduled to be released in conjunction with Oh Hell No, because why not? Looks like the Sharknado is coming to Riverdale. Jughead best watch out.
So Sharknado 3: Oh Hell No is something that's happening, and if you're interested, set a reminder on your TV for July 22. But don't worry if you miss it or if your DVR magically forgets to record, because if history is any indicator, Syfy will play this bad boy practically on a loop for the following few weeks.
Your Daily Blend of Entertainment News
Thank you for signing up to CinemaBlend. You will receive a verification email shortly.
There was a problem. Please refresh the page and try again.