Sherlock's Season 3 Adds New Directors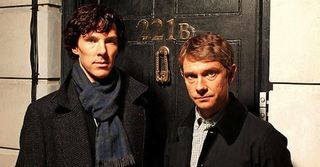 Fans of the BBC's Sherlock can finally see a light at the end of the long wait-for-Season-3 tunnel. Production on the delayed third season is finally underway and, along with that news, we have confirmation that new directors will be coming on board the program.
Overseas it's been more than a year since Season 2 of Sherlock aired, while U.S. audiences saw it last May. With busy schedules for the stars, the third season has been a long time coming. And now that production for that new season is underway, Deadline also has confirmed who the new directors will be. Among the directors joining the third season are Jeremy Lovering, whose feature In Fear just debuted at Sundance, and Colm McCarthy, whose credits include Dr. Who. Paul McGuigan, who directed four episodes out of the first six, is moving on; he's working on a feature film based on Mary Shelley's Frankenstein, which reportedly has Harry Potter himself, Daniel Radcliffe, in talks to star. I suppose that's an acceptable reason to leave the show.
Sherlock was originally slated to start filming Season 3 in January, but it was pushed back due to other commitments; two of the stars have been working on The Hobbit trilogy, including Benedict Cumberbatch, who was also busy filming The Fifth Estate. Word is that two of the three new episodes will film prior to the summer break, with the third being filmed after the stars come back from other summer gigs. The third season is expected to air in the winter, presumably in the UK, which means an even longer wait for us here. But hang in there, Sherlock is on its way.
Your Daily Blend of Entertainment News
Thank you for signing up to CinemaBlend. You will receive a verification email shortly.
There was a problem. Please refresh the page and try again.