Simpsons Marathon Winners: Tied at 86 Hours, 37 Minutes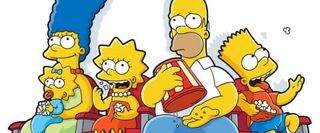 86 hours and 37 minutes of The Simpsons. In a row. That's what it took to break the Guinness World Record for longest continuous television viewing and to watch what must have seen like an endless lineup of Simpsons episodes, and they didn't even get through all of them. 100 contestants took up the challenge, but these two folks from California are the victors – the ultimate couch potatoes.
From February 8th to the 12th Jeremiah Franco, 22 years old and Carin Shreve, 33 years old, but California residents, beat out the rest to win the world record and a sweet check for $10,500 – each, that is. I wonder if it bought them a Valentine's Day date. I suspect that if it did, they didn't spend it watching The Simpsons. The two were declared co-winners about half an hour past the previous Guinness World Record mark, and Fox called an end to the contest. To reach the end of every episode of the series, the contest would have had to go one more than twice as long as it did.
EW carried an interview with the dual winners not long after they woke up from a much deserved nap – or maybe it might be better referred to as a coma. How did they do it? According to Shreve:
Running in place? Gives a new meaning to the term Simpsons marathon. The two winners attended the premiere party for the 500th episode of the show, but neither of them plans to watch The Simpsons again for a while. Can't say I blame them.
Your Daily Blend of Entertainment News
Your Daily Blend of Entertainment News
Thank you for signing up to CinemaBlend. You will receive a verification email shortly.
There was a problem. Please refresh the page and try again.