This Sisters Reunion Photo Is A Blast From The 90s Past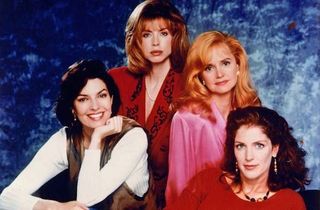 What's black and white and absolutely gorgeous? This reunion photo of the titular sisters in NBC's 90s drama Sisters. Check out Alex, Teddy, Georgie and Frankie back together again below...
Clockwise from left to right, that's Patricia Kalember, Sela Ward, Julianne Phillips, and Swoosie Kurtz, who played Georgie, Teddy, Frankie and Alex respectively.
Once upon a time, NBC aired a drama called Sisters. The soapy 90s drama ran for six seasons, earning itself numerous award nominations before it was eventually retired. And unlike a lot of beloved TV series from yesteryear, Sisters hasn't been revived on DVD or streaming, so this reunion photo, which comes to us courtesy of EW, strikes a deeper nostalgic chord. If your memory's rusty, here's a look at what the four titular sisters looked like back when the series originally ran...
Created by Ron Cowen and Daniel Lipman, Sisters debuted in 1991 and centered on four adult sisters, each with a male-sounding name, who were dealing with all sorts of life drama and looked to one another for support and friendship. Their differing personalities and the history they shared growing up played a big factor in the dynamic of the lead characters. In the later seasons, a fifth half-sister named Charley was introduced.
From my memory, the series was great. Admittedly, I haven't seen an episode of it since it originally aired. But -- spoiler alert -- the biggest thing that stands out was the romantic relationship between Sela Ward's Teddy and Falconer, who was played by a post-Roseanne/pre-ER George Clooney). Teddy and Falconer met when he was called in to investigate the rape of Teddy's daughter Cat. Teddy and Falconer bonded and eventually sparked a romance. Check out Ward and Clooney and their plane wedding...
Spoiler alert again! As vital as Teddy and Falconer's relationship was to TV drama at the time, Falconer's tragic death at the hands of a criminal (and a car bomb) was absolutely devastating. Fortunately, NBC would bring George Clooney back to the small screen with ER a couple of years later, and the rest is Clooney history.
As for Sisters, for some reason, we haven't seen the box set or the Netflix, Hulu and/or Amazon Prime deal that would bring the series to streaming. Whether or not that ever happens remains to be seen, but as of January 2013 -- according to Yahoo -- it doesn't sound like Warner Bros. has any plans to bring the series to DVD anytime soon.
Your Daily Blend of Entertainment News
Thank you for signing up to CinemaBlend. You will receive a verification email shortly.
There was a problem. Please refresh the page and try again.